Safari 101 Hunting Africa: The Ultimate Adventure: Getting There and Back (Paperback)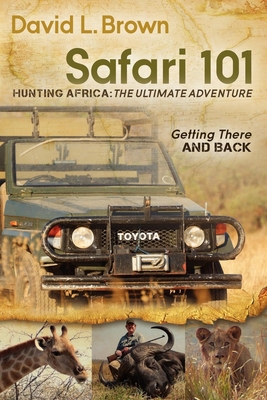 $17.95

Usually Ships in 1-5 Days
Description
---
Mbogo, the Black Death, which manifests itself in the African Cape buffalo, now stood less than 12 feet away from me. The cow and calf were too close for me to have time to be scared. I would only have time to react on instinct if they came closer.
That is the type of excitement that every hunter dreams of and it is still possible in Africa today. It is also one that I was fortunate enough to experience without any permanent ill effects. Eighty percent or more of American hunters think that Africa is too expensive or off-limits and that they will never have a chance to experience their own, up-close-and-personal adventure in the African bushveld. Safari 101 proves just the opposite. Safari 101 is written for the hunter that has always considered Africa out of reach, someone who has a spark of desire just waiting to be fanned into a flame. American hunters spend thousands of dollars every year hunting at home. Almost none of them know that, for the price of a guided elk hunt in the western United States, they can take an African Safari. The myths of being too expensive and too difficult are firmly entrenched in many hunters minds. Safari 101 has forty-six hints dispersed throughout 11 chapters and proves these myths false. Personal experiences are used to illustrate the value of each hint and to make each one easy to remember. Safari 101 takes the author's experiences, and what he learned from professional hunters and outfitters, and puts the information in a logical progression that is entertaining as well as informative. Safari 101 will help fan the spark into a flame.
About the Author
---
David L. Brown is a lifelong outdoorsman, owner of a private shooting preserve, and is active as an Eagle Scout in a local scout troop. He retired from Lowe's Cos. at age 40 and has had previous stories featured in the African Sporting Gazette and the African Expedition Magazine. He has been married for 26 years and has two daughters.
Praise For…
---
"Thank you again for taking the time to speak with me. I received your book the same day we spoke. Read it this weekend. On one hand I was happy to see that I had figured out a few things before speaking with you and reading the book but on the other hand I wish I would have had it sooner as it would of saved me a boat load of time. It's packed with a lot of good tips.
It is a great resource which I think any first timer should have. For that matter I'm keeping it handy for trip 2, 3 and 4. (fingers crossed)
Thanks again, and I hope to be in contact upon getting back from hunting with Shona. On that same note, best of luck on your trip."

-Rick N.

"Extremely well done, great information and written in a form that's fun to read. GREAT COMBINATION and sometimes hard to pull off!
 
I particularly liked your section about "tipping", something that is seldom covered in other books on going to Africa or for that matter other hunts.
 
As mentioned it's extremely well written, contains a BUNCH of good information and written where it's fun to read. Also appreciated your comments on drinking while in camp... I too enjoy "sundowners" but I've seen some who have carried it too far and didn't enjoy the next morning...
Thanks for a great book!"

-Larry Weishuhn, Host of the TV show "A Hunters life with Larry Weishuhn"
"After reading your book I felt like I had made a good friend. This book was especially helpful as my wife wants to accompany me on the trip. We are interested in touring in addition to the hunt. My wife is a non- hunter, but supports me in my love of the outdoors. My concern is that I wanted this trip to be equally enjoyable for her as I expect it to be for me. Your book eased my concern about her having an outstanding experience on the trip. A couple of other things that I felt I had picked up from your book is the need to: 1. have a plan [whether for gear to take, where you want to tour, and what animals you would like to harvest], 2.be flexible, 3.preserve the experience in a journal and by camera, 4. prepare by spending time on the firing range, 5. ask plenty of questions when planning the trip. Your book was very personable and is an easy read. I would recommend this book to anyone planning a first trip to Africa. Your book was a wealth of information to me."
-J. McGregor
 David: Just a quick note to thank you for the wonderful book on plains and dangerous game hunting in Namibia and Zimbabwe. You did an outstanding job and have become an authority on the subject. I especially liked the anecdotal stories and the way the book flowed as a result. Great job and thanks again. The book will be a valuable part of my hunting library!
-D. Smith, First Vice President Financial Advisor