Look!: A Child's Guide to Advent and Christmas (Paperback)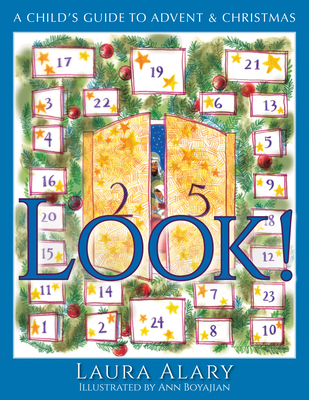 $16.99

Usually Ships in 1-5 Days
Description
---
Look! A Child's Guide to Advent and Christmas presents Advent as special time for waiting and watching—paying attention—to the ways God comes to us.
 
Told from the point of a view of a child, the story weaves together familiar Advent traditions like the Jesse tree and the Advent wreath, biblical stories and characters, and reflections on what these stories call us to do and be.
 
This book reassures children of the presence of God in all times and places and invites them to become part of the holy work of making Christ present in the world.
About the Author
---
Laura Alary is a writer, storyteller, and religious educator. When she was a little girl she used to make her own books out of manila paper, crayons, and mucilage. These early efforts at writing eventually gave way to academic papers and theses, as she earned degrees in Classics (B.A., Dalhousie), Theology (M.Div., Knox College, University of Toronto) and New Testament (Ph.D., University of St. Michael's College). More recently, Laura has focused on a new type of education—raising three creative and curious children. She leads workshops on everything from storytelling to biblical interpretation, teaches the occasional university course, and works with children at a local congregation. She has also returned to her early love of creating her own books, including Is That Story True? and Mira and the Big Story. Laura lives in Toronto, Canada.

Ann Boyajian is the illustrator of many books, including Samantha's Friendship Fun (in the American Girl series), More Spice Than Sugar (Houghton Mifflin), and O Say Can You See? American's Symbols, Landmarks, and Inspiring Words (Scholastic).
Praise For…
---
"Look! certainly stands alone as an effective and evocative overview of the season of Advent, but I also I think it would be particularly helpful as a guide for families as they make their way together through Advent. The stories could be told, the activities mentioned could be engaged in, and the wondering questions discussed. It is a book that calls out to be played with!" —Andrew Sheldon, Godly Play Advocate for International Development

"Look! A Child's Guide to Advent & Christmas takes us from the people of the Bible who waited for redemption to the people of the church today who are still waiting. The book introduces children to the powerful symbolism of Advent, especially that of light and darkness, but also talks about Advent as a time for spiritual practices such as journaling, painting and using prayer beads, and serving others." –Debbie Kolacki, Practical Resources for Churches 

"Don't rush through this book! Just as the season of Advent invites us into expectant waiting and wondering as we reflect on and experience God, Laura Alary weaves familiar story, language, and questions into a warm invitation for readers to pause and wonder. Take her up on the invitation and experience the depth of Advent." –Alexis Meredith, Building Faith, Center for the Ministry of Teaching at Virginia Theological Seminary

"Seldom comes a book that evokes the response of all our senses. From the flickering flames of glowing lamplight to the aroma of baking cookies Alary invites you into the waiting, wondering, and life-giving story. Winter branches shiver in the cold. The reader shivers with anticipation. The Light comes and Love is born." –Roger Hutchison, author of My Favorite Color is Blue. Sometimes.

"Advent is a season too easily swallowed by festive busyness. Reflecting on the best known biblical texts of the season, Laura Alary gently invites us into activities that embody their waiting. We look back to Israel, look around us with John the Baptist, and look forward with Mary. Families that spend a month with this book may experience Advent for the first time." —Gary Neal Hansen

"Look back, look around, look ahead… Look! is a terrific circumnavigation and exploration of the season of Advent for children (and adults.) With a child as our guide and narrator, we travel to ancient Jerusalem, to church, to home, and to the neighborhood to get a panoramic view of the rich paradoxes and themes of Advent. With the simple storytelling of a child and colorful, inviting illustrations author Laura Alary masterfully and gently connects the Biblical story, the church's story, and our personal story with the ongoing story of God in our midst. Look! introduces some creative and wonderful Advent activities to do at home; but this is not just a cheery 'let's get ready for Christmas and Jesus's birthday' book. This book honors a child's ability to be a young theologian, to pay attention to not only what is right in front of them but to spin 360 degrees to look at the way God moves in the world—past, present, and future." —Sybil MacBeth is the author of Praying in Color: Drawing a New Path to God and The Season of the Nativity: Confessions and Practices of an Advent, Christmas, and Epiphany Extremist.