Walt Disney's Mickey Mouse "Race To Death Valley": Volume 1 (Hardcover)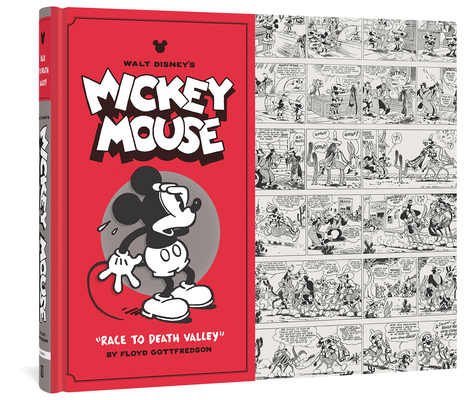 Description
---
One of the most eagerly-anticipated projects in comics.
Today everyone knows Mickey Mouse as the cheerful ambassador of all things Disney. But back in the 1930s, Mickey gained fame as a rough-and-tumble, two-fisted epic hero — an adventurous scrapper matching wits with mobsters, kidnappers, spies, and even (gulp!) city slickers! And Mickey's greatest feats of derring-do took place in his daily comic strip, written and drawn by one of the greatest cartoonists of the 20th century — Floyd Gottfredson.
For its first quarter-century, Gottfredson's
Mickey Mouse
was a rip-roaring serial: the most popular cartoon-based comic of its time, a trendsetting adventure continuity aimed at both kids and grown-ups, and the foundation on which all later Disney comics grew — including the adventures of Donald Duck and Uncle Scrooge by Gottfredson's Disney colleague Carl Barks.
Glimpses of Floyd Gottfredson's masterpiece have been reprinted over the years, most famously in Bill Blackbeard's classic
Smithsonian Collection of Newspaper Comics
. But the whole strip has never been comprehensively collected in English — until now! Fantagraphics Books is proud to bring this classic Disney creation to a 21st century audience in its entirety, starting from the strip's 1930 launch. Relive Mickey's race to a gold mine with Pegleg Pete hot on his heels; Mickey's life on the lam after being framed for bank robbery; even Mickey's ringside battle with a hulking heavyweight champ! The premiere volume features a dozen different adventures starring Mickey, his gal Minnie and her uncle Mortimer, his pals Horace Horsecollar and Butch, the villainous Pegleg Pete, and the mysterious and shrouded Fox.
Gottfredson's vibrant visual storytelling has never been more beautifully reproduced; we promise the best reprinting the strip has ever seen, with each daily lovingly restored from Disney's original negatives and proof sheets. "Death Valley" also includes more than 50 pages of fascinating supplementary features, including rare behind-the-scenes art and vintage publicity material from the first two years of the strip. Critics, scholars, seasoned Disney archivists, and fellow cartoonists provide commentary and historical essays on the strip's creation and execution.
Walt Disney often said that his studio's success "all started with a Mouse" — Walt himself wrote the
Mickey Mouse
strip before turning it over to the able hands of Gottfredson — and today Mickey is among the world's most recognizable icons. Now it's time to rediscover the wild, unforgettable personality behind the icon: Floyd Gottfredson's Mickey Mouse.
About the Author
---
Hired as a short-term replacement on the fledgling Mickey Mouse daily strip in 1930, Floyd Gottfredson (1905–1986) went on to draw the feature for the next 45 years. He created the most famous Mickey tales ever told in print. He is a Disney Legend and was inducted into the Will Eisner Award Hall of Fame in 2006.

David Gerstein is an animation and comics researcher, writer, and editor best known for his work with The Walt Disney Company and its licensees. His published projects include Uncle Scrooge and Donald Duck: The Don Rosa Library (Fantagraphics, 2014-2018) and Mickey Mouse: The Ultimate History (with J.B. Kaufman; Taschen, 2018). He lives in North Carolina.

Gary Groth is the co-founder of The Comics Journal and Fantagraphics Books. He lives in Seattle.
Praise For…
---
Great lover, scholar, soldier, sailor, singer, toreador, tycoon, jockey, prizefighter, automobile racer,
aviator, farmer. Mickey Mouse lives in a world in which space, time, and the law of physics are nil. He
can reach inside of a bull's mouth, pull out his teeth and use them as castanets. He can lead a band or
play violin solos; his ingenuity is limitless; he never fails.
— Time Magazine (1931)

Walt Disney's Mickey Mouse: Race To Death Valley by Floyd Gottfredson will be warmly received by comics aficionados but should also intrigue Disney animation buffs who aren't necessarily plugged into comic strip history…. I have a feeling that this book, crafted with such obvious care, will earn Gottfredson a new legion of admirers.

— Leonard Maltin

The stories are dense, packing plenty of dialogue into the strips — and the themes are darker than the bright-eyed, factory-sealed tales of today. Mickey is multi-dimensional in the first volume....  This dynamic look is a revelation in the life of the character who started it all for Disney.
— Alex Carr - Omnivoracious (Amazon.com)

Floyd Gottfredson... created an enduring classic and the most fully-formed depiction of Disney's most important character…. Gottfredson had an animator's knack for storytelling, and his layouts remain clear no matter how busy they get. Much of the humor is stilted by modern standards, but you'll be too enthralled by the exciting plots and likable characters to care.
— Garrett Martin - Paste

…[I]t's not just a great Mickey Mouse comic, it's one of the best comics of all time.
— Chris Sims - Comics Alliance

We've already seen the gorgeous treatment that Fantagraphics has given to books like Peanuts... so there's no doubt that Gottfredson's Mickey Mouse will get the same. Kudos to them for bringing the work of a legendary artist back to today's readers in a way that will honor his memory and contributions to the medium.

— David Wolkin - Comics Alliance

Mickey Mouse is one of the most important and revered characters in pop culture, and no other creator has written him so human, so interestingly, so uniquely fun and vibrant as Floyd Gottfredson has. The cover price is too little to ask, as the stories in this book are a treasury of the highs sequential art can hit.
— Rafael Gaitan - Comics Bulletin

I was astounded to discover that once upon a time, Mickey Mouse comics were really good! And exciting!... Plenty of good background material puts it all in context for the new reader, previously unaware of this strip or Gottfredson's skill. I haven't had a better adventure read this year, in sheer 'I don't want to put this down!' desire to find out what comes next.
— Johanna Draper Carlson - Comics Worth Reading

Can you believe that the tapioca-plain Mickey Mouse was… once a high-spirited adventurer...? He was in the original comic strips... It's one of the classics.
— David Allen - Inland Valley Daily Bulletin

...[O]ne could not have asked for a better presentation, with the reproduction about as good as it gets for 80-year-old comic strips, and a veritable plethora of extras.... To sum up, anyone who likes Disney, cartoons, or comic strips will find tons of things to love about this.... A terrific book, highly recommended.
— Sean Gaffney - A Case Suitable for Treatment

It should go without saying that Fantagraphics has done their usual stellar job in regards to editorial presentation and design... [O]ne of the Great Comic Strips Of All Time.
— Patrick Markfort - Articulate Nerd