The Blue Sweater: Bridging the Gap Between Rich and Poor in an Interconnected World (Paperback)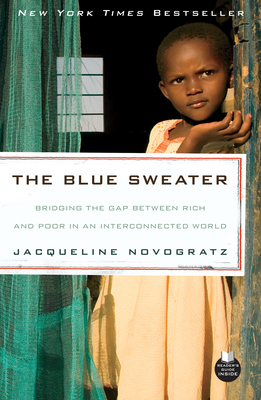 $15.99

Usually Ships in 1-5 Days
Description
---
NEW YORK TIMES BESTSELLER • "A book of hope written by a practical idealist who won't take 'no' for an answer when it comes to building a better world."—Former U.S. senator Bill Bradley
 
Jacqueline Novogratz left a career in international banking to spend her life on a quest to understand global poverty and find powerful new ways of tackling it. From her first stumbling efforts as a young idealist venturing forth in Africa to the creation of the trailblazing organization she runs today, Novogratz tells gripping stories with unforgettable characters. She shows how traditional charity often fails, but how a new form of philanthropic investing called "patient capital" can help make people self-sufficient and can change millions of lives.
 
More than just an autobiography or a how-to guide to addressing poverty, The Blue Sweater is a call to action that challenges us to grant dignity to the poor and to rethink our engagement with the world.
 
Jacqueline will donate her paperback royalties to Acumen Fund and other organizations fighting for social change.
About the Author
---
JACQUELINE NOVOGRATZ is founder and CEO of Acumen Fund, a nonprofit venture capital firm for the poor that invests in sustainable enterprises in the developing world.
Praise For…
---
"This is a wonderful book by a remarkable woman. It's a story about doing enormous good while having some extraordinary experiences and even adventures. It touches the heart and the mind. I recommend it to anyone who wants to learn about what's really going on in the world out there." —Fareed Zakaria, Author of The Post-American World and editor of Newsweek International

"The decency of Jacqueline Novogratz shines through these pages and so does her strength. The stories she shares about the people she has met show the nobility of the human spirit and the breadth of the desire to stop suffering, to feed the hungry, to care for the sick, to empower the poor - in short, to make the world a better place. The Blue Sweater is a book of hope written by a practical idealist who won't take "no" for an answer when it comes to building a better world. Jacqueline breathes new life into the phrase "a life of meaning" and she is living one everyday even as she asks us to join her." —Senator Bill Bradley

"The Blue Sweater will inspire people around the world by seeing the difference one person can make in taking on challenges with courage, curiosity, drive and a great sense of possibility. It is a story for all of us, regardless of the country in which we were born." —Mary Robinson, Chair of Realizing Rights: The Ethical Globalization Initiative

"Jacqueline's book and her work represent an entirely new way to look at things, a vivid opportunity for change and most of all, an obligation to spread the word about the way the world has evolved. We need to wake up and listen to what she has to say. Hurry!" —Seth Godin, author of Tribes: We Need You to Lead Us and Purple Cow: Transform Your Business by Being Remarkable

"Jacqueline is a national treasure. Her pioneering work at Acumen Fund is positively influencing a whole generation of donors and recipients." —Seth Berkley, President and founder of the International AIDS Vaccine Initiative

"A captivating first-person account of a young woman's quest to close the gap between rich and poor. If one person can change the world, this is your window into how it's done." —Chee Pearlman, former Editor in Chief, I.D. Magazine

"If you believe in the worth and capacity of individual initiative and in group commitment, or if you believe that our lives can be transformed by the events we live through, then you must read this book." —Daniel Toole, UNICEF Regional Director for South Asia