George Crum and the Saratoga Chip (Paperback)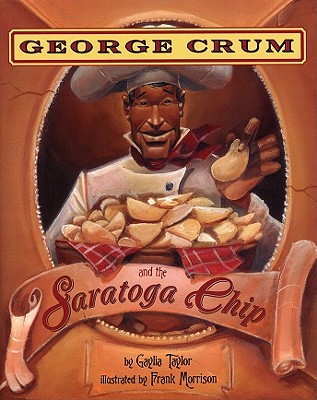 Description
---
Best Children's Books of the Year, Bank Street College of Education
An account of the life and career of George Crum, a biracial chef who is credited with the invention of the potato chip at a Saratoga Springs, New York, restaurant in 1853. Based on historical records.
Growing up in the 1830s in Saratoga Springs, New York, isn't easy for George Crum. Picked on at school because of the color of his skin, George escapes into his favorite pastimes - hunting and fishing.
Soon George learns to cook too, and as a young man he lands a job as chef at the fancy Moon's Lake House. George loves his work, except for the fussy customers, who are always complaining One hot day George's patience boils over, and he cooks up a potato dish so unique it changes his life forever.
Readers will delight in this spirited story of the invention of the potato chip - one of America's favorite snack foods. George Crum and the Saratoga Chip is a testament to human ingenuity, and a tasty slice of culinary history.
About the Author
---
Gaylia Taylor was born in Cleveland, Ohio. She is a retired Reading Recovery(R) teacher who is pursuing a full-time career writing children's books. She is the author of Bebop Books' Family Picnic, The Dashiki, and First Day at School. Lee & Low's George Crum and the Saratoga Chip was her first picture book. When she isn't writing, Gaylia loves to travel. Taylor lives in Norfolk, Virginia, with her husband. Frank Morrison has illustrated numerous award-winning books, including the Coretta Scott King Illustrator Honor winner Little Melba and Her Big Trombone, published by Lee & Low Books. Before becoming an illustrator, Morrison was a graffiti artist and b-boy. Morrison lives with his family in Georgia. You can learn more about him at morrisongraphics.com.
Praise For…
---
"Crum is multidimensional in depiction, and readers can practically taste his crisp, freshly prepared chips. Morrison's richly colored acrylic illustrations have a comical look; the elongated figures shown from unusual angles create stylized exaggeration and burst with life. This book contains sufficient detail to interest older students, and its appealing format will assure its popularity as a read-aloud for the primary grades."

—School Library Journal