Gettin' Old Ain't For Wimps: Inspirations and Stories to Warm Your Heart and Tickle Your Funny Bone (CD-Audio)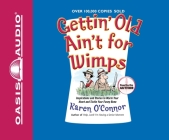 $19.99
Title is Backordered
Description
---
Bursting with wit and wisdom, these lighthearted, real-life stories, insightful Scriptures, and heartfelt prayers will make you chuckle and confess, "That sounds just like me!" Popular speaker and author Karen O'Connor invites you to celebrate the joys and misadventures of getting older. Have you noticed that…
•when you can't find your glasses, they're usually on top of your head?
•the delightful honesty of youth sometimes stings?
•love still makes your heart skip a beat…or two…or three?
•every morning you breathe a prayer of thanks for another day?
•a good sense of humor makes life so much easier?
Are you ready to trade in your wimp status for a more courageous existence? Or are you still wondering what lies ahead? Gettin' Old Ain't for Wimps hilariously affirms that life will always be filled with wonder, promise,and adventure!
About the Author
---
Karen O'Connor is a sought-after speaker, writing consultant, and the award-winning author of 40 books, including Help, Lord! I'm Having a Senior Moment (over 100,000 copies sold), Basket of Blessings, and In Step with Your Stepchildren. She has appeared on national radio and television programs such as The 700 Club, 100 Huntley Street, Life-Style Magazine, and the Sally Jessy Raphael Show.
Praise For…
---
"A popular Christian author (40 books, many bestsellers) shares a collection of heartwarming stories about getting old. The topics range from marriage, sex, and health issues to friendship, exercise, and mental clarity—all of them expressed with humor and humility. After each story, the author, who is in her 70s, offers a reflection in the form of a Bible verse and a prayer in which she affirms the primacy of her relationship with God and talks to Him about her approach to each old-age challenge. Though the author is clearly reading the material, her voice is enjoyable, and she sounds like she's having a good time. And while her spirituality is overt, she's so laid-back about it that it adds to the enchantment of getting to know her." 
T.W. © AudioFile Portland, Maine