Serenity Volume 2: Better Days (Paperback)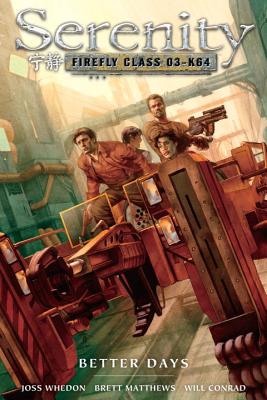 $9.99
Title is Backordered
Description
---
Serenity: Better Days follows everyone's favorite space cowboys in a thrilling, action-packed adventure, where Mal and his crew take on a heist that promises a big payoff. But when one of Serenity's crew is taken captive and tortured, the gang must put their enduring differences aside and work together to save one of their own, even if it means losing the cash prize of a lifetime!

Joss Whedon returns to the world of his blockbuster film Serenity, reuniting with Brett Matthews and Will Conrad, his collaborators on the bestselling 2005 series Those Left Behind.
About the Author
---
Joss Whedon was born in New York City in 1964. He started out as a staff writer for the 1990s sitcom Roseanne and worked on films, including Toy Story. In 1992 he penned the script for a film, Buffy the Vampire Slayer, and when the TV version starring Sarah Michelle Gellar took off in 1997, Whedon had his big break—with its female action heroine, Buffy, became a huge hit. Whedon wrote hundreds of episodes for Buffy and its spin-off Angel, and was nominated for Emmy and Hugo awards for his work. Whedon has come to enjoy a cult following. The author lives in Santa Monica, California.

Patton Oswalt is a comedian, actor, author, and screenwriter. Oswalt is perhaps best known as the voice of Remy the rat in the film, Ratatouille, but he also gained prominence during the '90s as one of the premier West Coast stand-up comedians. Oswalt's albums Feelin' Kinda Patton, Werewolves and Lollipops, and My Weakness Is Strong are staples of the genre. Oswalt has also been featured in The King of Queens, Big Fan, Young Adult, and The Goldbergs. 

Zack Whedon is a film director and writer for television and comic books. Whedon was educated at Wesleyan University. He began his TV writing career with the HBO show Deadwood and has written and produced a number of other high-profile projects. In the comic book world, Whedon is known for his work on Serenity, The Terminator, and Dr. Horrible. He is the brother of Joss Whedon.

Brett Matthews is a television writer and producer best known for his work on The Vampire Diaries and Supernatural. He also wrote two comic book prequels in the Serenity franchise: Serenity: Those Left Behind and Serenity: Better Days.