You Shall Not Want: 30 Days with the Psalms (Paperback)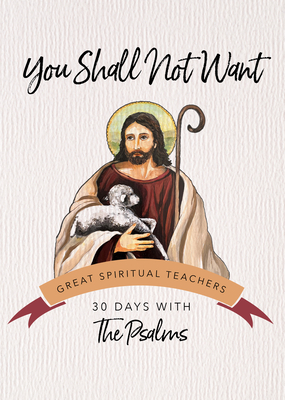 $10.95
Title is Backordered
Description
---
For more than three thousand years, the psalms have been a source of comfort and wisdom to people of diverse faiths. In You Shall Not Want, connect with the doubts, dreams, and trials of the psalmists through a month's worth of morning and evening readings. Take time to let the living tradition of the psalms give voice to the longings of your heart and lead you to a deeper encounter with the God of all generations.
Each book in the Great Spiritual Teachers series provides a month of daily readings from one of Christianity's most beloved spiritual guides. For each day there is a brief and accessible morning meditation drawn from the mystic's writings, a simple mantra for use throughout the day, and a night prayer to focus one's thoughts as the day ends. These easy-to-use books are the perfect prayer companion for busy people who want to root their spiritual practice in the solid ground of these great spiritual teachers.
About the Author
---
The Psalms comprise one of the most important deposits of wisdom literature in the Judeo-Christian tradition. Their insight, lyricism and sacred significance continue to resonate with readers today. John Kirvan (1932-2012) wrote primarily about classical spirituality. He conceived the Great Spiritual Teachers series and edited most of its seventeen titles. Richard Chilson, a member of the Paulist Fathers, is the author of sixteen books. He currently serves in health care ministry in Minneapolis.