The Manga Guide to Biochemistry (Paperback)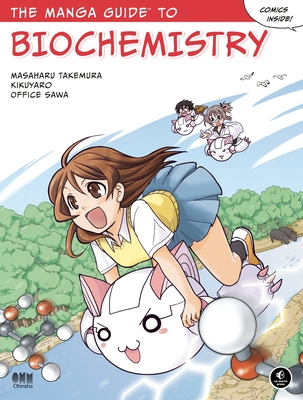 $24.95
Title is Backordered
Description
---
Kumi loves to eat, but she's worried that her passion for junk food is affecting her health. Determined to unlock the secrets of dieting, she enlists the help of her brainy friend Nemoto and his beautiful biochemistry professor, Dr. Kurosaka. And so it begins...

Follow along in The Manga Guide to Biochemistry as Kumi explores the mysteries of her body's inner workings. With the help of RoboCat, the professor's friendly endoscopic robot, you'll soar through the incredible chemical machinery that keeps us alive and get an up-close look at biopolymers like DNA and proteins, the metabolic processes that turn our food into energy, and the enzymes that fuel our bodies' chemical reactions.

As you dive into the depths of plant and animal cells, you'll learn about:
–The metabolism of substances like carbohydrates, lipids, proteins, and alcohol
–How the energy powerhouses known as mitochondria produce ATP
–DNA transcription and the different types of RNA that work together to translate the genetic code into proteins
–Enzyme kinetics, how they're measured, and how enzyme inhibition works

Whether you're a medical student, an amateur scientist, or just curious about how your body turns cupcakes into energy, The Manga Guide to Biochemistry is your key to understanding the science of life.
About the Author
---
Masaharu Takemura is an Associate Professor at the Tokyo University of Science who specializes in molecular biology and life science. A Doctor of Medical Science, he has written several books about biology.
Praise For…
---
"Another manga guide that helps make the complex subject matter, in this case biochemistry, accessible and easy to learn thanks to its easy to digest format."
—Active Anime

"This might just be one of the most exciting products I have seen yet."
—The Otaku's Study

The Manga Guide to Biochemistry "will go a long way towards de-mystifying the subject and give you a lot of good tools to reason through."
—Michael Larsen, TESTHEAD

"An excellent introduction to biochemistry."
—TCM Reviews

"A great way to learn about how your body processes food and not be bored by a textbook."
—Things To Do In LA

"I appreciate this series' willingness to eschew traditional learning sequences in favour of intuition, learning in context, and developing ideas organically from previous knowledge. Another enjoyable entry to the series."
—Sleeping Hedgehog, A Journal of An Untraditional Nature

"Do you love manga? Do you love science? You'll love this book!"
—Jaime Herndon, BookRiot