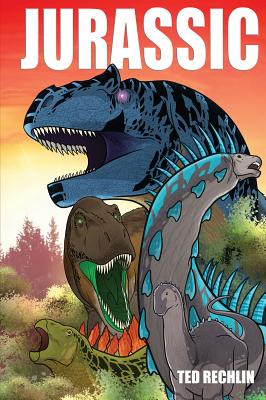 $19.95
Title is Backordered
Description
---
Welcome to the exciting land of
Jurassic
, a dinosaur graphic novel for all ages one hundred and fifty million years in the making - featuring the triumphant return of the Brontosaurs For decades the beloved Brontosaurus was thought to have never existed and that its bones belonged to another dinosaur known as the Apatosaurus. In 2015, dinosaur fans were rocked as the paleontology community concluded that the Thunder Lizard (as the Brontosaurus is known) was indeed a species of sauropod
From the mind of Ted Rechlin, author and illustrator of Tyrannosaurus Rex comes a thrilling new prehistoric adventure whisking readers along a wild journey encountering many famous dinosaur species. Both educational and scientifically accurate, Jurassic centers around the survival story of a young Brontosaurus calf trying to maneuver through the golden age of dinosaurs.
As deadly mega-carnivores prowl the forests and mighty whale-sized herbivores walk the land, Jurassic features illustrations ranging from the monstrous (and hungry) Allosaurus, Ceratosaurs, and Torvosaurus to the massive herbivore Brachiosaurus, the whip-tailed Diplodocus, the tree-top munching Camarasaurus, and the largest land animal in North American history, the Supersaurus.
From wild hunts and a congregation of Jurassic titans, to daring escapes and thrilling battles, witness the resurrected reputation of the Brontosaurus and watch one young calf's journey to become the Thunder Lizard he was born to be.