Keys to Perception: A Practical Guide to Psychic Development (Paperback)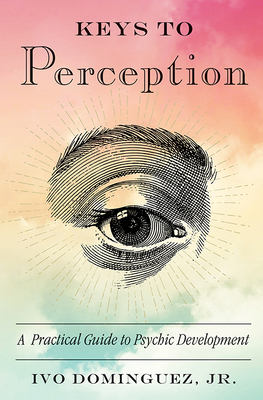 Description
---
Many different systems and traditions of magic, divination, spirituality, and esoteric religion exist, but at their core, they share the need for practitioners to safely and successfully experience the reality that lies beyond the physical senses.
Keys to Perception: A Practical Guide to Psychic Development is a collection of proven and tested methods, rituals, and systems that will help you deepen and clarify your capacity to sense and understand the rich worlds beyond the veils of the ordinary. The material in this book derives from decades of work by the author and his students.
Dominguez offers the reader practical techniques for increasing psychic aptitude and ability. Methods featured include chanting and working with crystals, chakras, oils, herbs, and potions, as well as a variation on the Middle-Pillar Ritual.
About the Author
---
Ivo Domínguez, Jr. has been active in the Wiccan and the pagan community since 1978 and has been teaching since 1982. He was a founding member, and past High Priest, of Keepers of the Holly Chalice, the first coven of the Assembly of the Sacred Wheel a Wiccan Tradition. Ivo is also one of the organizers for the New Alexandrian Library. You can find him at ivodominguezjr.com.
Praise For…
---
"Buy all of Ivo Dominguez's books. Study them. Do the work. Ponder. Then return and study them some more."
— T. Thorn Coyle, author of Kissing the Limitless: Deep Magic and the Great Work of Transforming Yourself and the World

"Keys to Perception is another masterful work by Ivo Dominguez, artfully blending deep metaphysical insight into the nature of psychic perception with clear and direct instructions and examples. Only someone with a long history of direct experience and an educated understanding of the phenomenon could write this book to both convey useful skills to beginners and provide new perspectives for seasoned psychics. Grounded and practical as well as flexible in approach. I look forward to recommending this to students, friends, and peers alike."
— Christopher Penczak, award winning author and co-founder of the Temple of Witchcraft

"For some people, witchcraft is about herbs and candles and prayers to the gods. For some others, magic is about the proper grimoire and ritual protocols. Keys to Perception is for those that want to see and feel and know directly. Once you can do this, magic is forever transformed. Developing this perception takes work. Even those who are naturally psychic can greatly improve their accuracy and power through training. Ivo presents a battery of methods that will give you the skills to see and communicate with a whole other world, leaving no doubt about the realities of magic."
— Jason Miller, author of Financial Sorcery and The Sorcerer's Secrets, and creator of The Strategic Sorcery Course

"Ivo Dominguez, Jr. has demystified the mystical without compromising its beauty. He invites you into his process and shows the ways for the reader to make it all their own. Part workbook, part testimony to the great Mysteries, Keys to Perception is an absolutely essential guide for magick practitioners of all levels."
— Courtney Weber, author of Tarot for One

"Written as only one who possesses great knowledge and experience can do, Keys to Perception is sure to be a classic 'must read' in the field of psychic development. This may well be the most practical and useful book on the subject I've read to date."
— Raven Grimassi, author of Communing with the Ancestors