Orcapedia: A Guide to the Victims of the International Orca Slave Trade (Paperback)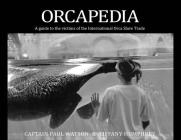 $24.95
Title is Backordered
Description
---
Established in 1977, Sea Shepherd Conservation Society has been protecting the ocean's ecosystems and marine wildlife for over forty years. ORCAPEDIA: A Guide to the Victims of the International Orca Slave Trade by founder Captain Paul Watson and marine wildlife expert Tiffany Humphrey provides a sobering look at the current imprisonment of orcas"€""€"a highly intelligent, socially complex, nonthreatening species"€""€"by a for-profit industry.
ORCAPEDIA introduces the reader to one of the largest members of the Cetacea order of marine mammals: the orca (aka killer whales).. The names and photos of over sixty orcas, together with their personal history and notable incidents, such as injuries and behavioral issues, convey a realistic account of the injustices being perpetrated. Five pages of "headstones" in recognition of orcas that died at marine park facilities illustrate the point.
While many orcas would not survive if they were suddenly released into the wild, the authors recommend th.