Oregon Trail: The Road to Destiny (Paperback)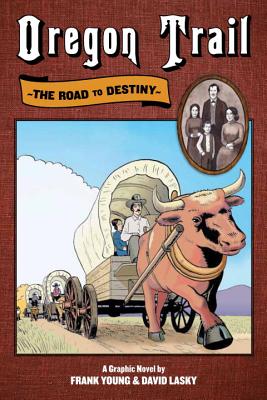 $14.95
Title is Backordered
Description
---
Join one family's epic journey by oxen-drawn wagon train along the Oregon Trail in this thrilling historical graphic novel for young readers. Narrated by eleven-year-old Rebecca Weston, this is the tale of a historic trip across more than 2,000 miles of untamed land with remarkable encounters with wildlife, Native Americans, and natural wonders.

This brilliant graphic novel reveals all of the planning, equipment, and logistics that went into traveling across an untamed continent in the 1800s as well as the hardship, heartbreak, and happiness they experience along the way. The dynamic comic style of illustrator David Lasky reveals epic landscapes of the west and a visual inventory of everything the family took with them, including the parts of a covered wagon and a personally annotated map of the trail. Readers feel intimately what it was like to be part of this storied migration west—not a dry recitation of dates and facts—but an immediately memorable living history. Come along and experience firsthand one of the great American adventures—a brave family in search of a better life.
About the Author
---
Frank Young is a writer and cartoonist living in Seattle, Washington. This is his first graphic novel in a thirty-plus-year publishing career. David Lasky has been a published cartoonist since 1989. Among his best-known work is the award-nominated Urban Hipster. Young and Lasky also collaborated on The Carter Family: Don't Forget This Song.
Praise For…
---
This is a story with action and pizzazz: SMASH! THUD! GRRRRRR... typical cartoon sound effects abound as the overland party fords rivers, meets with Indians, hunts game, crosses treacherous mountains, and copes with drought, disease, and heart-wrenching loss. There is plenty of historical information packed into these energetic pages, but kids are so busy being entertained they won't resist being educated at the same time - heck, they won't even notice!
Bellingham Herald

Simple paneling makes this graphic novel easy to read, even for novices to the format. A good addition as an introduction to an Oregon Trail unit or for supplemental materials on the subject.
School Library Journal