The Way: 31 Verses Every Teenager Should Know (Paperback)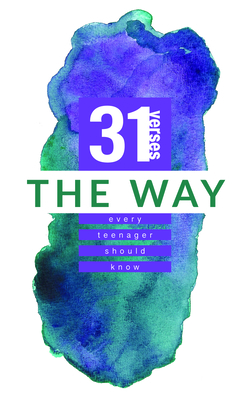 $6.99
Title is Backordered
Description
---
Help the teen in your life learn what righteousness means and what it should look like in their life.
The Way is part of the 31 Verses topical devotional series that offers the opportunity to help forge the next generation using biblical truth as it relates to specific topics. The impact, prayerfully, is that not only the life of the teen is changed but so are the lives of those around them. Each book in the series contains the plan of salvation, quick tips on how to share your faith, and prompts for how to pray for friends. With engaging content, journaling space, and an affordable price point, these topical devotionals will be a way to build up those you love. The Way examines thirty-one verses related to Jesus' repeated instructions for His followers to walk in the way of righteousness.
These devotions are perfect for any gift-giving occasion: graduation, birthday, or as stocking stuffers. The content is relevant for youth discipleship ministry, as church youth camp materials, church summer youth activities, and more.
Check out the other books in the 31 Verses Every Teenager Should Know series. Or, if you want to go a little deeper with this topic, purchase a copy of the corresponding Bible study. Learn more at www.LifeBibleStudy.com.
About the Author
---
Iron Stream Books, New Hope(R) Publishers, Life Bible Study, Ascender Books, and New Hope Kidz are imprints of Iron Stream Media, which derives its name from Proverbs 27:17, "As iron sharpens iron, so one person sharpens another." This sharpening describes the process of discipleship, one to another. With this in mind, Iron Stream Media provides a variety of solutions for churches, ministry leaders, and nonprofits ranging from in-depth Bible study curriculum and Christian book publishing to custom publishing and consultative services. Through the popular Life Bible Study and Student Life Bible Study brands, ISM provides web-based full-year and short-term Bible study teaching plans as well as printed devotionals, Bibles, and discipleship curriculum. For more information on ISM, visit IronStreamMedia.com and NewHopePublishers.com.