The Meaning is in the Waiting: The Spirit of Advent (Paperback)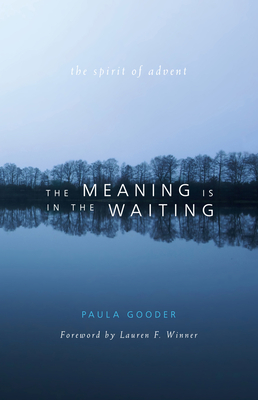 $17.99

Usually Ships in 1-5 Days
Description
---
Is it worth the wait?

Paula Gooder shows how the spiritual practice of waiting is vital to our well-being. With warmth and insight, she helps us re-learn the skill of waiting, and invites us to engage with the real, flesh-and-blood people that are the subject of our Scripture readings and lessons each Advent: Abraham and Sarah, the Hebrew prophets, John the Baptist, and Mary. Each of them exemplified how to wait upon God for wisdom, joy, and the meaning of life.

"In this winsome yet provocative Advent devotional, I began to sense something I had not understood before, in any of my other Advent observances -- it is not just we who wait. God is waiting too.  'The Lord waits, that he may be gracious unto you,' says Isaiah, one of the prophets who interests Paula Gooder most. God waits on us, for our attention, for our visits home; God waits for our vision, and our ear." -Lauren Winner, from the foreword
 The Meaning Is in the Waiting is arranged for daily reading in the hectic run-up to Christmas. This thoughtful book will enable you to grow more fully into a way of being that is expectant rather than urgent, more focused on God's presence right now than on some imagined future. 
About the Author
---
Paula Gooder is Canon Theologian of Birmingham Cathedral, a visiting lecturer at King's College, and travels throughout North America and Europe leading workshops and inspiring Christians to deepen and express their faith in new ways.
Praise For…
---
"In this winsome yet provocative Advent devotional . . . I began to sense something I had not understood before, in any of my other Advent observances—it is not just we who wait. God is waiting, too. 'The Lord waits, that He may be gracious unto you,' says Isaiah, one of the prophets who interests Paula Gooder most. God waits on us, for our attention, for our visits home; God waits for our vision and our ear." —Lauren F. Winner, from the Foreword