On Sal Mal Lane: A Novel (Paperback)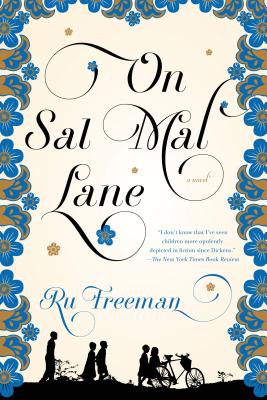 $20.00

Usually Ships in 1-5 Days
June 2013 Indie Next List
---
"In 1983, the Sri Lankan tensions between the Tamils and the Sinhalese broke into civil war. On quiet, secluded Sal Mal Lane, the Horvaths and their neighbors are not sheltered from the turmoil, and the prejudices of the greater world find their way onto their secluded street. The coming of age of the children on Sal Mal Lane and the loss of one innocent in particular shatters their world. On Sal Mal Lane is a beautifully written, heartbreaking story of a foreign yet somehow familiar time and place."
— Ellen Richmond, Children's Book Cellar, Waterville, ME
Description
---
In the tradition of In the Time of the Butterflies and The Kite Runner, a tender, evocative novel about the years leading up to the Sri Lankan civil war


* A Library Journal Best Indie Fiction of 2013 * A Largehearted Boy Best Book of the Year *

On the day the Herath family moves in, Sal Mal Lane is still a quiet street, disturbed only by the cries of the children whose triumphs and tragedies sustain the families that live there. As the neighbors adapt to the newcomers in different ways, the children fill their days with cricket matches, romantic crushes, and small rivalries. But the tremors of civil war are mounting, and the conflict threatens to engulf them all.
In a heartrending novel poised between the past and the future, the innocence of the children—a beloved sister and her overprotective siblings, a rejected son and his twin sisters, two very different brothers—contrasts sharply with the petty prejudices of the adults charged with their care. In Ru Freeman's masterful hands, On Sal Mal Lane, a story of what was lost to a country and her people, becomes a resounding cry for reconciliation.
About the Author
---
Ru Freeman is the author of A Disobedient Girl. She is an activist and journalist whose work appears internationally. She calls both Sri Lanka and America home.
Praise For…
---
"[A] rich, sensory novel. . . . Freeman never strays far from the neighborhood's youngest inhabitants. They are wondrous to behold, with their intelligence, imagination and innocence. I don't know that I've seen children more opulently depicted in fiction since Dickens. . . . The novel soars [with] its sensory beauty, language and humor." —Cristina Garcia, The New York Times Book Review

"Freeman's powerful second novel focuses on ordinary children living their lives as war clouds build." —People, "Great Reads"

"Piercingly intelligent and shatter-your-heart profound, Ru Freeman's On Sal Mal Lane is as luminous as it is wrenching, as fierce as it is generous. This is a riveting, important, beauty of a book." —Cheryl Strayed, author of Wild and Tiny Beautiful Things

"[Freeman's] individual characters are nuanced and richly written--you wish you could just stay on their peaceful lane forever, but of course you can't, and neither can they." —Oprah.com, "Book of the Week"

"Freeman draws all of her characters artfully as she uses her lane and its inhabitants to reflect a larger, troubled world. . . . Not entirely pessimistic about human nature, Freeman even holds out a faint hope for reconciliation, in well-directed words of kindness." —The Miami Herald

"I finished the novel . . . with a deeper respect for the human spirit, despite what politics, violence, and loss can do to it." —The Millions

"On Sal Mal Lane succeeds, gathering gravitas and emotional depth. . . . Freeman makes it a choice reading destination." —Newsday

"Ru Freeman's On Sal Mal Lane is stupendous. . . . With prose both lingering and breathtaking" —Terry Hong, Bookslut

"On Sal Mal Lane does not whittle war down to statistics or gory clashes; instead, it provokes deeper discussion of its manifestations and complexities by chronicling the lives of ordinary citizens living in pre-war Sri Lanka . . . It's the kind of book that makes your heart sink with every turn of the page, continually transforming your perspective on true love and loss. . . . Beautifully composed." —PopMatters, 9 out of 10 stars

"Lovingly written, historically rich and compassionate to all sides of the turmoil." —Kirkus Reviews

"Freeman's gift for verisimilitude is manifest with searing clarity . . . And in fictionalizing Sri Lankan history, Freeman accomplishes what reportage alone cannot: she blends the journalist's loyalty to fact with impassioned imagination." —Booklist

"Freeman is a tender writer, deftly weaving culture, history and, yes, redemption into a story with a range of rich, earned feeling. It's highly likely that readers will close the book with a different outlook on life, love, and loss." —ForeWord Reviews

"Deeply moving and brilliant. . . . A vivid, beautiful and deeply tragic tale of the families that live on the lane and the ethnic divisions that ultimately destroy the fragile harmony of the lane and the country of Sri Lanka as a whole. . . . Devi reminds me of Scout from To Kill a Mockinbird and Swede from Peace Like a River, small girls who make very large impressions, and IÕm sure that On Sal Mal Lane will join their ranks as a new perennial favorite of booksellers, librarians and of course, readers." —Cathy Langer, Tattered Cover

"Loss of innocence is probably a universal mark of coming-of-age, but much of the innocence lost in Ru Freeman's captivating On Sal Mal Lane, shouldn't be visited upon young people, or any people for that matter. This beautiful novel gives us children of a Sri Lankan lane at a certain historical moment. . . . Utter heartbreak is here--for the rapacious violence and madness of the world does come--and smile-as-you-read passages of larger spirits and powers being realized to the better. Ru Freeman's excellent A Disobedient Girl is now followed by a major leap up in accomplishment, empathy, artistry." —Rick Simonson, Elliott Bay Book Company

"An elegaic and powerful portrait of a troubled time. Ru Freeman beautifully interweaves humanity and history, creating a wise, thought-provoking and deeply felt novel." —Madeline Miller, winner of the Orange Prize for The Song of Achilles

"On Sal Mal Lane is a finely-wrought sculpture of the capillary systems by which nihilism and violence travel from the political realm to the intimate, and back again." —Rana Dasgupta, author of Solo

"Ru Freeman has written the masterwork of Sri Lanka's bellum civile, a novel that patiently and lucidly witnesses the daily lives of children on a single lane as the violence builds. There are no acronyms, no convoluted battles, no dreary expository detours. This is a civil war about a garden wall, a cricket game, a bicycle ride, music lessons, the shopkeeper that won't sell to you anymore and a teenager choosing between the house of one friend or another's to burn. It distills one of the last century's most complicated wars into what it really was on the ground--the everyday reality of that timeless threat, the neighbor turned killer." —Lorraine Adams, Pulitzer Prize winner and author of The Room and The Chair