The Gilded Page: The Secret Lives of Medieval Manuscripts (Hardcover)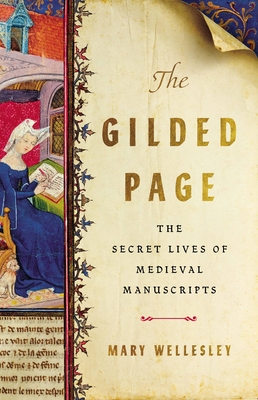 $30.00

Usually Ships in 1-5 Days
Description
---
A breathtaking journey into the hidden history of medieval manuscripts, from the Lindisfarne Gospels to the ornate Psalter of Henry VIII
"A delight—immersive, conversational, and intensely visual, full of gorgeous illustrations and shimmering description." –Helen Castor, author of She-Wolves
Medieval manuscripts can tell us much about power and art, knowledge and beauty. Many have survived because of an author's status—part of the reason we have so much of Chaucer's writing, for example, is because he was a London-based government official first and a poet second. Other works by the less influential have narrowly avoided ruin, like the book of illiterate Margery Kempe, found in a country house closet, the cover nibbled on by mice. Scholar Mary Wellesley recounts the amazing origins of these remarkable manuscripts, surfacing the important roles played by women and ordinary people—the grinders, binders, and scribes—in their creation and survival.
The Gilded Page is the story of the written word in the manuscript age. Rich and surprising, it shows how the most exquisite objects ever made by human hands came from unexpected places.
"Mary Wellesley is a born storyteller and The Gilded Page is as good as historical writing gets. This is a sensational debut by a wonderfully gifted historian." —Dan Jones, bestselling author of The Plantagenets and The Templars
About the Author
---
Mary Wellesley is a former research affiliate at the British Library, where she still teaches medieval language and literature. A frequent contributor to the London Review of Books, she completed her PhD at University College London. She lives in London. 
Praise For…
---
"A historian examines the origins and maintenance of famous manuscripts, revealing the pivotal work of binders, scribes and dedicated women in keeping the work of many celebrated writers and thinkers from ruin."—New York Times

"Exactly the sort of engaging, ambitious works of scholarship that serious readers want to know about."—Michael Dirda, Washington Post, "12 books I should have reviewed last year: A critic's lament"

"This history of medieval illuminated manuscripts vividly evokes the corporeality of objects that, in a museum display, can seem almost ethereal… Highlighting instances in which texts about women were radically recentered on men, Wellesley offers a nuanced glimpse of the shifting nature of the written word."—New Yorker

"Thanks to Wellesley's expertise and passion for her subject, we practically hear the voices of the scribes and artists who produced these rare relics of the Middle Ages."—Christian Science Monitor

"This book is an expression of love… Sublimely conceived and beautifully written…"—Gerard DeGroot, The Times (UK)

"Fascinating information... Wellesley writes about creators, authors, scribes and parchment makers. Manuscripts establish a personal bond across the centuries between her and the men and women who made them. Few people have described the experience so eloquently. The range is remarkable." —The Spectator

"To Wellesley, books are objects, tangible things, a million miles away from Kindles, which are inert. Her taste is not for 'the sanitised, ordered blandness of the modern edited text.'"—Daily Telegraph

"Fascinating." —BBC's History Revealed

"Wellesley's subject matter holds an irresistible hook, for not just historians but anyone who loves reading."—Library Journal

"The Gilded Page is a delight—immersive, conversational, and intensely visual, full of gorgeous illustrations and shimmering description. Mary Wellesley explores the lives of medieval manuscripts, and the men and—importantly—women who made them, with deep learning and unmistakable love."—Helen Castor, author of She-Wolves

"Mary Wellesley is a born storyteller and The Gilded Page is as good as historical writing gets. Wellesley draws on her deep scholarly knowledge of medieval manuscripts to weave a captivating tale, told through generations of 'tremulous hands' and forgotten artistic geniuses, whose works inform so much of what we know today about the Middle Ages. This is a sensational debut by a wonderfully gifted historian."—Dan Jones, bestselling author of The Plantagenets and The Templars

"Authors may write their books, but they don't make them. Here is the chance to meet the women and men who actually made the cathedrals and palaces of medieval English literature, from the St. Cuthbert Gospel to the Luttrell Psalter, from Beowulf to Chaucer. Mary Wellesley tells us about the authors, but more important, she introduces us to the artists, the ink-makers, vellum preparers and pigment grinders—and all the others who contributed their different gifts to these great communal achievements. To read this book is to meet the makers of the English literary Middle Ages."—Neil MacGregor, Former Director of the British Museum and author of A History of the World in 100 Objects

"In an age moving ever more quickly away from the physical book, The Gilded Page conjures up in vivid detail the pleasures of reading and making manuscripts. Mary Wellesley's joy in telling the stories of books long lost and found, and voices forgotten and recovered, is palpable on every page. I finished this book with a burning desire to get back to the archives."—Ramie Targoff, author of Renaissance Woman

"Mary Wellesley has written a most original book which is at once a vivid personal account of scholarly detective work  and a model of how history might be taught now that there is easy electronic access to ancient manuscripts. She traces the precarious survival of the earliest books, expounds with clarity the methods and purposes of authors, scribes, patrons, annotators and illustrators and speculates with sympathy on their motives. Hands (especially female ones) assume personalities, indeed voices which are recognizable even when alien —and often urgently appealing."—Nicholas Penny, Formerly Director of the National Gallery, London

"This is an engaging and beautiful book – the engagement arising from the author's deep commitment to understanding the lives of medieval women and men, and the beauty from her ability to make us see and hear them talking about and living their experiences. It isn't just an introduction to literary manuscripts but also a series of glimpses of the extraordinary diversity of medieval lives. Mary Wellesley has taken jewels from our bibliographic treasures and placed them, carefully and with love, in the palm of the reader's hand."—Ian Mortimer, author of The Time Traveller's Guide to Medieval England

"The Gilded Page shines with 'bibliophilic feeling,' inviting readers to see the ways medieval manuscripts have been venerated by the makers, patrons, authors, and scholars who had a hand in the creation and survival of these hand-written books. With care at once forensic and literary, Mary Wellesley reads both the form and content of a broad range of works, revealing the traces of their history legible in the pores of the page, in each drop of ink, and in every word. In the process, she provides a page-turner of her own—one in which historical volumes come to life through the dramas swirling around them and through the details we can glean about our predecessors from their pages. The Gilded Page brings us closer to figures remote in time, pointing out the places in the margins and the text where these works 'are smudged with human stories.'"—Amaranth Borsuk, author of The Book

"Their creators being largely anonymous, Medieval manuscripts tell their own stories in this Decameron of devotion and obsession, encryption and skullduggery, extravagance, destruction, and survival. The result is an unexpectedly swift page-turner on the era when pages were turned slowly."—Eliot Weinberger

"Mary Wellesley brings early Britain alive with this exciting account of the hidden world of old manuscripts. Far from an arid examination of dusty parchments this is an exhilarating journey of discovery, full of new insights not least, as the title implies, the important but unrecognized role women played in political and religious life. A refreshing and original vision of who we once were."—David Dimbleby, author of A Picture of Britain

"A fascinating and brilliantly narrated voyage into the little-known treasure-houses of medieval culture."—Simon Jenkins, author of A Short History of Europe