The 10 Best Decisions a Single Mom Can Make: A Biblical Guide for Navigating Family Life on Your Own (Paperback)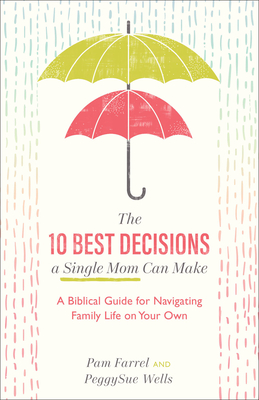 $15.99

Usually Ships in 1-5 Days
Description
---
No matter how you became a single mom, you share the same challenges and fears all single moms have. You may feel stretched to the limit. You may suspect your children need more than you're able to give. How are you going to do this on your own?

With humor, Scripture, and sage advice, Pam Farrel (child of a single mother) and PeggySue Wells (single parent of 7 children) show you how to

- be decisive
- create a nurturing home
- be proactive
- date wisely
- pray for your child
- embrace your happily-ever-after
- and more

You are capable of parenting your children with courage, confidence, and clarity. This loving, practical guide shows you how.
About the Author
---
Pam Farrel and her husband, Bill, are the authors of the bestselling Men Are Like Waffles--Women Are Like Spaghetti and Red-Hot Monogamy. Pam is also the author of more than 50 books on relationships, marriage, and parenting, including 52 Ways to Wow Your Husband, 7 Simple Skills for Every Woman, and The 10 Best Decisions a Woman Can Make. Pam is cofounder and codirector with Bill of Love-Wise, an organization to help people connect love and wisdom and bring practical insights to their personal relationships. The Farrels make their home aboard their boat docked in Southern California.PeggySue Wells is the bestselling author or coauthor of nearly 30 books, including The Slave across the Street with Theresa L. Flores. A history buff and lover of tropical islands, she parasails, skydives, snorkels, scuba dives, and has taken (but not passed) pilot training. Living and writing in Indiana, PeggySue helps people implement the life-giving rhythms of working hard and resting well to live better, together.