James Patterson by James Patterson: The Stories of My Life (Mass Market)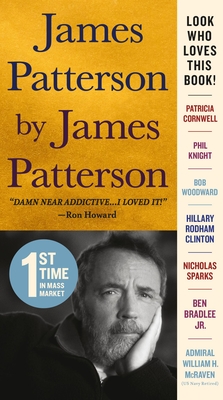 Description
---
"All Patterson's success stems from one simple root: his love of telling stories" (Washington Post). Now he reveals the inspiration behind them all.  
 
I once told a writer at Vanity Fair that I'd like my obituary to begin like this, "He was slowing down at a hundred and one and had only finished four novels that year."
 
I got infamous writing mysteries, so here's the big mystery plot for this book. How did a shy, introspective kid from upstate New York, without a lot of guidance or role models, go on to become the youngest ever CEO of the advertising agency J. Walter Thompson, North America?  
 
How did this same person become the bestselling writer in the world? 
 
One thing that I've learned and taken to heart is to tell stories. When I write, I pretend there's one person sitting across from me, and I don't want them to get up until I'm finished with the story.  
 
Right now, that person is you.
About the Author
---
James Patterson is the world's bestselling author. The creator of Alex Cross, he has produced more enduring fictional heroes than any other novelist alive. He lives in Florida with his family.