Una mujer sabia: Principios para vivir como Dios lo diseñó (Paperback)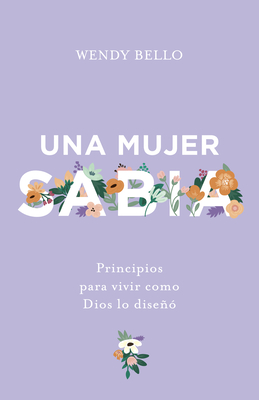 $14.99

Usually Ships in 1-5 Days
Description
---
¿Quieres tomar buenas decisiones en tu vida? El ingrediente número uno será actuar con sabiduría.
Podemos ser inteligentes, pero no sabias. De eso trata justamente
Una mujer sabia.
Basado en principios del libro de Proverbios, aquí encontrarás una herramienta para vivir la vida de la mejor manera, como Dios la diseñó, y poder tomar decisiones sabias en los aspectos prácticos del día a día.
En este libro encontrarás temas prácticos, entre ellos:
Cómo hablar y escuchar con sabiduría
Aprender a bendecir a tu esposo
Cuidar de tu hogar para edificarlo y no destruirlo
Cómo planificar y manejar mejor las finanzas, etc.
Este libro puede puede usarse de manera individual o como material para estudio en grupo. Cada capítulo termina con una sección de preguntas para profundizar.
La meta de alcanzar la sabiduría pudiera parecer difícil, pero en este libro descubrirás que con la ayuda de Dios, y la disposición a seguir Sus principios, sí puede lograrse.
A Wise Woman
Based on principles found in the book of Proverbs,
Una mujer sabia
offers tools for living the best possible life as God designed it.
Here is concrete help for making wise decisions in the practical aspects of day to day living. This book can be used individually or as material for group study. Each chapter ends with a section of questions to deepen thinking and enrich discussion.
The goal of reaching wisdom may seem difficult, but in this book you will discover that with God's help and the willingness to follow His principles, this can be achieved.  
About the Author
---
Wendy Bello es maestra de Biblia y conferencista. Ella es la autora de Un corazón nuevo, Una mujer sabia y Decisiones que transforman. Nacida en Cuba, ahora vive en Miami, Florida. Wendy está casada con Abel y tienen dos hijos adolescentes. Actualmente está cursando una Maestría en Estudios Teológicos en el Seminario Teológico Bautista del Sur (SBTS). Puedes encontrarla en Instagram y en Facebook.

Wendy Bello is a Bible teacher and speaker. She is the author of Un corazón nuevo [A New Heart], Una mujer sabia [A Wise Woman], and Decisiones que transforman [Choices that Transform]. She was born in Cuba and now lives in Miami, Florida with her husband Abel and their two teenagers. She is studying a master's degree in theological studies from Southern Baptist Theological Seminary. You can find her on Instagram and Facebook.