An Unofficial Joke Book for Fortniters: 800 All-New Explosively Hilarious Jokes for Fans of Fortnite (Unofficial Joke Books for Fortniters #2) (Paperback)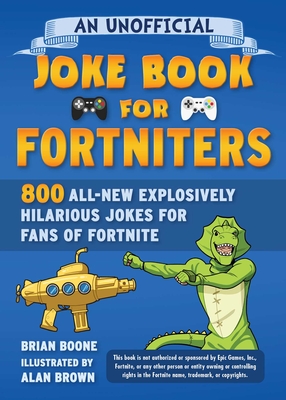 $7.99

Usually Ships in 1-5 Days
Other Books in Series
This is book number 2 in the Unofficial Joke Books for Fortniters series.
Description
---
Did you hear about the barnyard animal who learned to play Fortnite?
She won the Cattle Royale!

Why do Fortnite players have great smelling breath?
They use Scope.

Why did the Fortnite player build a house out of old harvested wood?
He needed structure.

If you loved An Unofficial Joke Book for Fortniters: Sidesplitting Jokes from Salty Springs, you'll love this volume eight hundred all-new gut-busting jokes for you and your squad! 

From puns and wordplay to funny one-liners that will have you dancing, this hysterical book has the funniest jokes inspired by Fortnite and its gameplay. Cackle your way to victory with the craziest and silliest jokes you can fire off to everyone on the island!

For kids ages eight and up, this is the perfect book for at home, at school, or any battle royale! You'll enjoy telling these sidesplitting jokes to your friends and family. Get extra laughs from the silly illustrations throughout!
About the Author
---
Brian Boone wrote the music trivia (with jokes) book I Love Rock 'n' Roll (Except When I Hate It). He is a regular contributor to Funny or Die, Popdose, Splitsider, and The Retroist, and his work has appeared on McSweeney's Internet Tendency, Adult Swim, The Impersonals, and the Huffington Post.