Shooter's Bible Guide to Deer Hunting: A Master Hunter's Tactics on the Rut, Scrapes, Rubs, Calling, Scent, Decoys, Weather, Core Areas, and More (Paperback)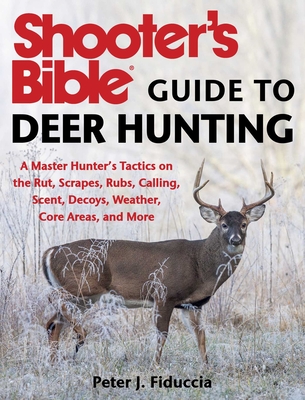 $19.99

Usually Ships in 1-5 Days
Description
---
Expert advice on calls, scents; strategy, shot placement and much more!
As a seasoned hunter, host of a hunting television show, and acclaimed author and editor, Peter J. Fiduccia has amassed prodigious experience in pursuit of the whitetail. Now, he shares his tips, tactics, and techniques with readers, touching on every topic related to hunting whitetail deer. Some of his tips include:
Core Areas: key strategies to take a buck in his core area
Deer Calls: surefire advice to guarantee a buck will respond to grunt calls
Using Scents: a radical scent tactic reveals how to attract bucks during the rut
Shot Placement: how to regularly make dead-on one-shot kills
Wounded Deer: methods that will drastically improve your tracking skills
Scrape Hunting: fail-proof strategies to flush out a mature buck
Weather: up your buck hunting success using barometric pressure and weather fronts
Terrain: how to identify the places mature bucks regularly travel
Fiduccia covers these and many more subjects in
Shooter's Bible Guide to Deer Hunting
. Hunters will find many ways to hone their skills and bag more deer with this handy guide.
About the Author
---
Peter J. Fiduccia is one of the most recognized authorities in the deer hunting community, known throughout North America as the "Deer Doctor." He is an award-winning journalist and has hosted the Woods n Water television series for more than thirty years. Fiduccia was the founder and consulting editor for Whitetail Hunting Strategies magazine and his writings have been published in ten books and numerous magazines. He lives with his wife, Kate, in Otsego County, New York.