Roger Federer and Rafael Nadal: The Lives and Careers of Two Tennis Legends (Hardcover)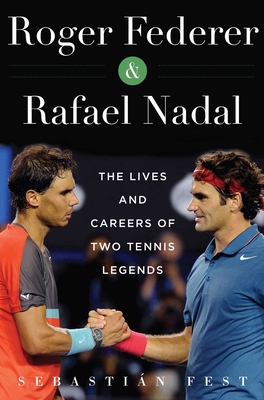 $24.99
Title is Backordered
Description
---
Since 2004, two names have dominated men's tennis: Rafael Nadal and Roger Federer. Each player is legendary in his own right. The Spanish Nadal is the winner of fourteen Grand Slam titles, including five consecutive French Open singles titles from 2010 to 2014, and is the only player ever to win a Grand Slam for ten straight years. Federer, from Switzerland, has spent over three hundred weeks of his career ranked as the number-one player in the world and has won seventeen Grand Slam titles and two Olympic medals. But neither player's career would have been nearly as successful without the decade-long rivalry that pushed them to excel to the peak of tennis excellence.

Nadal and Federer have met thirty-four times over the course of their careers, and have shared the distinction of being ranked the two best players in the world for an astounding six years in a row from 2005 to 2009. In Roger Federer and Rafael Nadal, international sports journalist Sebastian Fest uses information gleaned from his numerous interviews with both players over the last decade to narrate the rivalry, and its impact not only on the players, but on the sport itself. Documenting their respective wins and losses, hopes and disappointments, and their relationship with their rival, Fest formulates a unique biography of two of the greatest players of tennis.

Skyhorse Publishing, as well as our Sports Publishing imprint, is proud to publish a broad range of books for readers interested in sports: books about baseball, pro football, college football, pro and college basketball, hockey, or soccer, we have a book about your sport or your team.

In addition to books on popular team sports, we also publish books for a wide variety of athletes and sports enthusiasts, including books on running, cycling, horseback riding, swimming, tennis, martial arts, golf, camping, hiking, aviation, boating, and so much more. While not every title we publish becomes a New York Times bestseller or a national bestseller, we are committed to publishing books on subjects that are sometimes overlooked by other publishers and to authors whose work might not otherwise find a home.
About the Author
---
Sebastian Fest is the Chief Sports Editor for the Argentine newspaper La Nacion since 2015. He previously worked in the same position for the Spanish Service of DPA, the German news agency, since 2000. He's collaborated with different media such as Rolling Stone, Newsweek, Weltwoche, and FAZ. He is the author of Enredados (Buenos Aires, 2009), a book on the misfortune of the Argentinean Team at the Davis Cup, and co-wrote the book Ni rey ni D10s: Lionel Messi, with Alexandre Julliard.