The Umbrella Academy Volume 2: Dallas (Deluxe Edition) (Hardcover)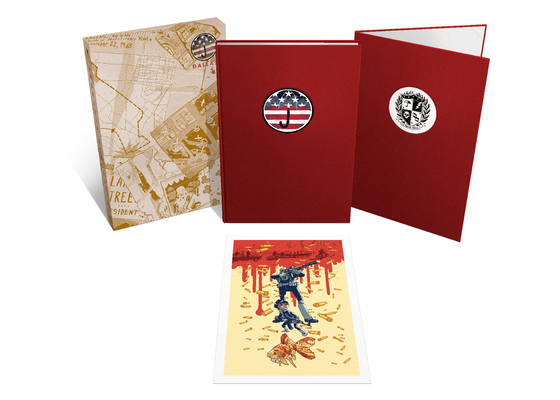 $87.99

Usually Ships in 1-5 Days
Description
---
The New York Times bestselling comics series that was the inspiration for The Umbrella Academy on Netflix, now on Season 3!

This deluxe edition hardcover collects the complete second series, Dallas, with an expanded 36-page sketchbook. The hardcover book comes in an illustrated slipcase featuring art by Gabriel Bá; also included is a portfolio containing a new unique print from the artist.

The Umbrella Academy is despondent following the near apocalypse created by one of their own and the death of their beloved mentor Pogo.

Trouble is—each of them is distracted by their own problems. The White Violin is bedridden. Rumor has lost her voice—the source of her power. Spaceboy has eaten himself into a near-catatonic state, while Number Five dives into some shady dealings at the dog track, and The Kraken starts looking at his littlest brother as the key to unraveling a mysterious series of massacres . . . all leading to a blood-drenched face-off with maniacal assassins, and a plot to kill JFK!
About the Author
---
Gerard Arthur Way (born April 9, 1977) is an American singer, songwriter, musician, and comic book writer who was the lead vocalist and co-founder of the American alternative rock band My Chemical Romance from its formation in September 2001 until its split in March 2013. His debut solo album Hesitant Alien was released on September 30, 2014. He also wrote the comic mini-series The True Lives of the Fabulous Killjoys and the Eisner Award-winning comic book The Umbrella Academy.