Usagi Yojimbo Volume 33: The Hidden (Paperback)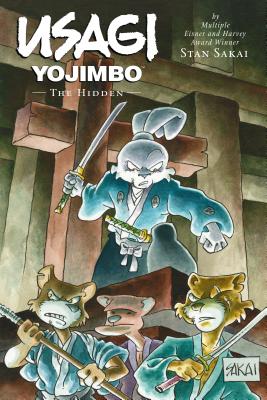 $17.99
Title is Backordered
Description
---
Usagi and his friend Inspector Ishida join forces once again as they embark on a mission to track down and uncover the importance of a foreign book that's been at the root of many problems across the land.

The daring duo, desperate to solve the mystery and restore peace, are forced to undertake unusual measures as well as enlist the help of a few surprising sources to get the information they require. Will Usagi and Ishida come out victorious or will this mystery prove too much for them to solve? Collecting a complete story arc in one place, this is the perfect jumping-on point for any fans--new or old!

Collects Usagi Yojimbo: The Hidden issues #1-#7.
About the Author
---
Stan Sakai was born in Kyoto, Japan, grew up in Hawaii, and now lives in California with his children, Hannah and Matthew. He received a fine arts degree from the University of Hawaii and did further studies at the Art Center College of Design in Pasadena, California. His creation, Usagi Yojimbo, is the story of a samurai rabbit living in a feudal Japan populated by anthropomorphic animals. It first appeared in Albedo Comics in 1984. Since then, Usagi has appeared on television as a guest of the Teenage Mutant Ninja Turtles; and as toys, on clothing, in comic books, and in a series of trade paperback collections. In 1991, Stan created Space Usagi, the adventures of a descendant of the original Usagi, dealing with the samurai in a futuristic setting. Stan is also an award-winning letterer for his work on Sergio Aragonés's Groo: The Wanderer, the Spider-Man Sunday newspaper strips, as well as for Usagi Yojimbo. He is the recipient of a Parents' Choice Award, an Inkpot Award, multiple Eisner Awards, two Spanish Haxturs, an American Library Association Award, and a National Cartoonists' Society Division Award. Usagi Yojimbo Book 12: Grasscutter was used as a textbook in Japanese history classes at the University of Portland.