A Stainless Steel Rat Is Born (MP3 CD)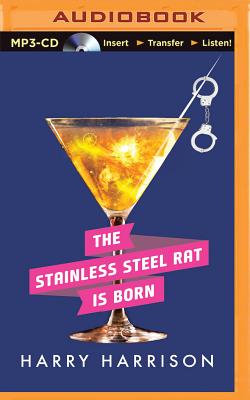 $9.99
Title is Backordered
Other Books in Series
This is book number 6 in the Stainless Steel Rat series.
Description
---
In this prequel to the Stainless Steel Rat, Slippery Jim is a brash 17-year-old who has left his parents' porcuswine farm, planning to embark on a life of crime. The book opens with Jim bungling a bank job so that he can be arrested and sent to prison, where he plans to learn the art of being a master criminal.
Deciding that the Bishop should be his mentor, Jim sets about proving himself worthy of the master's attention. He eventually has to flee his home planet of Bit O' Heaven with the Bishop, but Garth, the Captain of the ship who promised them safe passage, sells them into slavery.
The latter part of the book details Jim's adventures on the planet Spiovente, a semi-industrial world fighting feudal wars with weapons smuggled in (against League regulations) by Captain Garth.