The TB12 Method: How to Achieve a Lifetime of Sustained Peak Performance (Hardcover)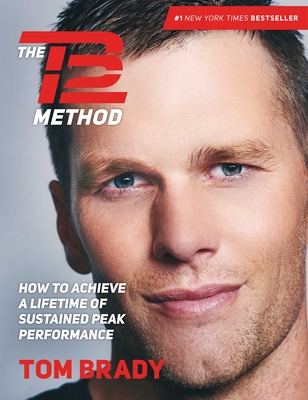 $29.99
Title is Backordered
Description
---
The #1 New York Times bestseller by the 7-time Super Bowl champion

The first book by NFL legend Tom Brady, the 7-time Super Bowl champion with the New England Patriots and Tampa Bay Buccaneers, who reached unimaginable heights of excellence into his forties—a gorgeously illustrated and deeply practical "athlete's bible" that reveals Brady's revolutionary approach to sustained peak performance for athletes of all kinds and all ages.

In this new edition of The TB12 Method, Tom Brady further explains and details the revolutionary training, conditioning, and wellness system that has kept him atop the NFL at an age when most players are deep into retirement. Brady—along with the expert Body Coaches at TB12, the performance lifestyle brand he cofounded in 2013 with Alex Guerrero—explain the principles and philosophies of pliability, a paradigm-shifting fitness concept that focuses on a more natural, healthier way of exercising, training, and living. Filled with lessons from Brady's own training regimen, The TB12 Method provides step-by-step guidance on how develop and maintain one's own peak performance while dramatically decreasing injury risks. This illustrated, highly visual manual also offers more effective approaches to functional strength & conditioning, proper hydration, supplementation, cognitive fitness, restorative sleep, and nutritious, easy-to-execute recipes to help readers fuel-up and recover.

Brady steadfastly believes that the TB12 approach has kept him competitive while extending his career, and that it can make any athlete, male or female, in any sport and at any level achieve his or her own peak performance and do what they love, better and for longer. With instructions, drills, photos, in-depth case studies that Brady himself has used, along with personal anecdotes and experiences from his legendary career, The TB12 Method gives you a better way to train and get results with Tom Brady himself as living proof.
About the Author
---
Tom Brady is the former quarterback of the Tampa Bay Buccaneers. He has won seven Super Bowls—six as the quarterback and offensive captain of the New England Patriots—and in five of them was named MVP. Additionally, he has won three league MVP awards (2007, 2010, and 2017), has been selected to 15 Pro Bowls, and led the New England Patriots to more division titles (17) than any other quarterback in NFL history. Brady ranks first all-time in career passing yards and first in career touchdown passes. With a career postseason record of 35-12, he has won more playoff games than any other quarterback, and appeared in more playoff games than any player at any position. He was named one of the NFL's 100 Greatest Players during the league's 50th anniversary celebration in 2019. He is the cofounder, with Alex Guerrero, of TB12 Sports a revolutionary health, wellness, and fitness system with multiple locations across the United States.
Praise For…
---
"Tom Brady, the New England Patriots' successful and durable quarterback, has a new book. It is entitled The TB12 Method: How to Achieve a Lifetime of Sustained Peak Performance, and it is large and handsome. . . . The book's tone is humble and encouraging. . . . Most important, the book provides useful photographic and textual instructions for dozens of body-weight resistance training exercises, many done with resistance bands."
—The New York Times

"Brady is the healthiest great champion the NFL has ever had, both physically and mentally. That is the most interesting and important aspect of his trajectory. His revolutionary act has been to seize control of his own body from a league that specializes in ruining men with Mesozoic training methods. . . . On the cusp of 40, he has never looked or played better in his life, and he appears to have more years left in those strikingly limber arms and legs."
—Sally Jenkins, The Washington Post