Leonardo da Vinci (Paperback)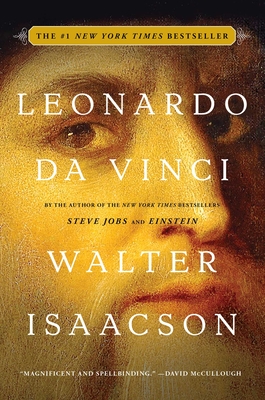 $22.00

Usually Ships in 1-5 Days
Description
---
The #1 New York Times bestseller from Walter Isaacson brings Leonardo da Vinci to life in this exciting new biography that is "a study in creativity: how to define it, how to achieve it…Most important, it is a powerful story of an exhilarating mind and life" (The New Yorker).

Based on thousands of pages from Leonardo da Vinci's astonishing notebooks and new discoveries about his life and work, Walter Isaacson "deftly reveals an intimate Leonardo" (San Francisco Chronicle) in a narrative that connects his art to his science. He shows how Leonardo's genius was based on skills we can improve in ourselves, such as passionate curiosity, careful observation, and an imagination so playful that it flirted with fantasy.

He produced the two most famous paintings in history, The Last Supper and the Mona Lisa. With a passion that sometimes became obsessive, he pursued innovative studies of anatomy, fossils, birds, the heart, flying machines, botany, geology, and weaponry. He explored the math of optics, showed how light rays strike the cornea, and produced illusions of changing perspectives in The Last Supper. His ability to stand at the crossroads of the humanities and the sciences, made iconic by his drawing of Vitruvian Man, made him history's most creative genius.

In the "luminous" (Daily Beast) Leonardo da Vinci, Isaacson describes how Leonardo's delight at combining diverse passions remains the ultimate recipe for creativity. So, too, does his ease at being a bit of a misfit: illegitimate, gay, vegetarian, left-handed, easily distracted, and at times heretical. His life should remind us of the importance to be imaginative and, like talented rebels in any era, to think different. Here, da Vinci "comes to life in all his remarkable brilliance and oddity in Walter Isaacson's ambitious new biography…a vigorous, insightful portrait" (The Washington Post).
About the Author
---
Walter Isaacson is the bestselling author of biographies of Jennifer Doudna, Leonardo da Vinci, Steve Jobs, Benjamin Franklin, and Albert Einstein. He is a professor of history at Tulane and was CEO of the Aspen Institute, chair of CNN, and editor of Time. He was awarded the National Humanities Medal in 2023. Visit him at Isaacson.Tulane.edu.
Praise For…
---
"As always, [Isaacson] writes with a strongly synthesizing intelligence across a tremendous range; the result is a valuable introduction to a complex subject. . . . Beneath its diligent research, the book is a study in creativity: how to define it, how to achieve it. . . . Most important, Isaacson tells a powerful story of an exhilarating mind and life."
—The New Yorker

"To read this magnificent biography of Leonardo da Vinci is to take a tour through the life and works of one of the most extraordinary human beings of all time and in the company of the most engaging, informed, and insightful guide imaginable. Walter Isaacson is at once a true scholar and a spellbinding writer. And what a wealth of lessons there are to be learned in these pages."
—David McCullough, Pulitzer Prize-winning author of The Wright Brothers and 1776

"I've read a lot about Leonardo over the years, but I had never found one book that satisfactorily covered all the different facets of his life and work. Walter—a talented journalist and author I've gotten to know over the years—did a great job pulling it all together. . . . More than any other Leonardo book I've read, this one helps you see him as a complete human being and understand just how special he was."

—Bill Gates

"Isaacson's essential subject is the singular life of brilliance. . . . Isaacson deftly reveals an intimate Leonardo . . . a masterpiece of concision."
—San Francisco Chronicle

"A captivating narrative about art and science, curiosity and discipline."
—Adam Grant, #1 New York Times Bestselling author of Originals

"He comes to life in all his remarkable brilliance and oddity in Walter Isaacson's ambitious new biography . . . a vigorous, insightful portrait of the world's most famous portraitist...Isaacson's purpose is a thorough synthesis, which he achieves with flair."
—The Washington Post

"Walter Isaacson is a renaissance man. . . . Rather like Leonardo, he's driven by a joyful desire to discover. That joy bubbles forth in this magnificent book. In Isaacson, Leonardo gets the biographer he deserves—an author capable of comprehending his often frenetic, frequently weird quest to understand. This is not just a joyful book; it's also a joy to behold. . . . Isaacson deserves immense praise for producing a very human portrait of a genius."
—The Times of London

"The pleasure of an Isaacson biography is that it doesn't traffic in such cynical stuff; the author tells stories of people who, by definition, are inimitable....Isaacson is at his finest when he analyzes what made Leonardo human."
—The New York Times

"Monumental . . . Leonardo led an astonishingly interesting eventful life. And Isaacson brilliantly captures its essence."
—The Toronto Star

"Majestic . . . Isaacson takes on another complex, giant figure and transforms him into someone we can recognize. . . . Totally enthralling, masterful, and passionate."
—Kirkus Reviews, starred review

"Illuminating . . . This is a monumental tribute to a titanic figure."
—Publishers Weekly, starred review

"Isaacson uses his subject's contradictions to give him humanity and depth."
—Anthony Grafton, The New York Times

"Encompassing in its coverage, robust in its artistic explanations, yet written in a smart, conversational tone, this is both a solid introduction to the man and a sweeping saga of his genius."
—Booklist, starred review

"A fresh and enthusiastic reading of the extraordinary da Vinci notebooks, written in a way that makes them both accessible and contemporary. Absorbing, enlightening and always engaging."
—Miranda Seymour, author of Mary Shelley

"Isaacson's biography is linear enough to follow easily, yet it returns, as did the artist, time and again, to the highly concrete, enticingly yet rigorously investigable mysteries of the human and natural world. Model . . . . This beautiful book, on coated stock, showing text and illustrations to the best advantage, is a pleasure to hold."
—Bay Area Reporter

"Isaacson, to his credit, helps us see Leonardo's artistic vision with fresh eyes. . . . He writes simply and clearly, and even though his principal character hails from antiquity, the narrative hums like a headline from the morning paper, alert to topical parallels between then and now . . . we finish the book with a renewed conviction that the world's most famous Renaissance man was, in essence, inimitable."
—Christian Science Monitor

"A full and engrossing profile of the artist . . . The author moves fluidly between the scientific inquiries of Leonardo's notebooks and the artistic achievements in his sketchbooks, and carries the same themes, such as the artist's boundless curiosity and inquiry, through them in a way that does not seem too facile or overapplied."
—East Hampton Star

"A 21st century page-turner."
—USA Today

"Exuberant . . . a richly illustrated ride through the artist's life . . . a fascinating, bonbon-size tribute to the man who thought to ask."
—Newsday

"Beautifully produced and illustrated, the biography is an ideal match of author and subject. . . . Fascinated by Leonardo's genius, Isaacson lucidly and lovingly captures his stunning powers of observation that spanned so many disciplines. . . . Isaacson's monumental and magnificent biography does succeed in helping us understand what made da Vinci's paintings so memorable, and in making Leonardo much more accessible, as a genius, a man of and outside of his times, and as a 'quirky, obsessive, playful, and easily distracted' human being."
—Tulsa World

"In some ways this is Walter Isaacson's most ambitious book. He uses the life he recounts in a wonderful way to speculate on the source of geniuses...always you are informed, entertained, stimulated, satisfied. This has to be the most beautifully illustrated and printed book I've seen in recent years."
—Fareed Zakaria GPS

"[A] splendid work that provides an illuminating guide to the output of one of the last millennium's greatest minds."
—Guardian US

"Leonardo da Vinci's prowess as a polymath — driven by insatiable curiosity about everything from the human womb to deadly weaponry — still stuns. In this copiously illustrated biography, we feel its force all over again. Walter Isaacson wonderfully conveys how Leonardo's genius unified science and art."
—NATURE

"Dazzling"
—HARVARD GAZETTE

"Luminous . . . Leonardo Da Vinci is an elegantly illustrated book that broadens Isaacson's viewfinder on the psychology of major lives – Henry Kissinger, Benjamin Franklin, Albert Einstein and Steve Jobs are the subjects of his previous biographies, best-sellers all."

—THE DAILY BEAST