The Noonday Demon: An Atlas of Depression (Paperback)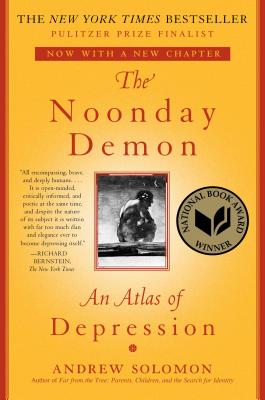 $22.00

Usually Ships in 1-5 Days
Description
---
The Noonday Demon is Andrew Solomon's National Book Award-winning, bestselling, and transformative masterpiece on depression—"the book for a generation, elegantly written, meticulously researched, empathetic, and enlightening" (Time)—now with a major new chapter covering recently introduced and novel treatments, suicide and anti-depressants, pregnancy and depression, and much more.

The Noonday Demon examines depression in personal, cultural, and scientific terms. Drawing on his own struggles with the illness and interviews with fellow sufferers, doctors and scientists, policy makers and politicians, drug designers, and philosophers, Andrew Solomon reveals the subtle complexities and sheer agony of the disease as well as the reasons for hope. He confronts the challenge of defining the illness and describes the vast range of available medications and treatments, and the impact the malady has on various demographic populations—around the world and throughout history. He also explores the thorny patch of moral and ethical questions posed by biological explanations for mental illness. With uncommon humanity, candor, wit and erudition, award-winning author Solomon takes readers on a journey of incomparable range and resonance into the most pervasive of family secrets. His contribution to our understanding not only of mental illness but also of the human condition is truly stunning.
About the Author
---
Andrew Solomon is a professor of psychology at Columbia University, president of PEN American Center, and a regular contributor to The New Yorker, NPR, and The New York Times Magazine. A lecturer and activist, he is the author of Far and Away: Essays from the Brink of Change: Seven Continents, Twenty-Five Years; the National Book Critics Circle Award-winner Far from the Tree: Parents, Children, and the Search for Identity, which has won thirty additional national awards; and The Noonday Demon; An Atlas of Depression, which won the 2001 National Book Award, was a finalist for the Pulitzer Prize, and has been published in twenty-four languages. He has also written a novel, A Stone Boat, which was a finalist for the Los Angeles Times First Fiction Award and The Irony Tower: Soviet Artists in a Time of Glasnost. His TED talks have been viewed over ten million times. He lives in New York and London and is a dual national. For more information, visit the author's website at AndrewSolomon.com.
Praise For…
---
"All encompassing, brave, and deeply humane. . . . It is open-minded,critically informed, and poetic at the same time, and despite the nature of its subject it is written with far too much élan and elegance ever to become depressing itself."
— Richard Bernstein, The New York Times

"The Noonday Demon is the ideal and definitive book on depression. There is nothing falsely consoling about this account, which is the opposite of a bromide, unless to be accompanied by so much intelligence and understanding is a consolation in itself."
— Edmund White, author of A Boy's Own Story and The Flaneur

"An exhaustively researched, provocative, and often deeply moving survey of depression. . . . original and vividly recounted, Solomon writes engagingly; his style is intimate and anecdotal. . . witty and persuasive. Overall. . . The Noonday Demon is a considerable accomplishment. It is likely to provoke discussion and controversy, and its generous assortment of voices, from the pathological to the philosophical, makes for rich, variegated reading."
— Joyce Carol Oates, The New York Times Book Review

"The book for a generation. . . . Solomon interweaves a personal narrative with scientific, philosophical, historical, political, and cultural insights. . . . The result is an elegantly written, meticulously researched book that is empathetic and enlightening, scholarly and useful. . . . Solomon apologizes that 'no book can span the reach of human suffering.' This one comes close."
— Christine Whitehouse, Time

"Both heartrending and fascinating . . . the book has a scope and passionate intelligence that give it intrigue as well as heft."
— Gail Caldwell, The Boston Globe

"The Noonday Demon explores the subterranean realms of an illness which is on the point of becoming endemic, and which more than anything else mirrors the present state of our civilization and its profound discontents. As wide-ranging as it is incisive,this astonishing work is a testimony both to the muted suffering of millions and to the great courage it must have taken the author to set his mind against it."
— W. G. Sebald, author of The Emigrants

"It's a compendium, it's a think piece; it's both! . . . Remarkable . .. [Solomon] has a killer eye for detail, as well as curiosity and compassion."
— Emily Nussbaum, The Village Voice

"A wrenchingly candid, fascinating, and exhaustive tour of one of the darker chambers of the human heart."
— Daniel Goleman, author of Emotional Intelligence

"Everyone will find a piece of himself in Solomon's account, even if he has been spared the experience of watching that kernel blossom into a monstrous and strangling plant. . . . Solomon shows bravery and rigor."
— Christopher Caldwell, Slate magazine

"Exhaustive and eloquent."
— Maria Russo, Salon.com

"The Noonday Demon is an amazingly rich and absorbing work that deals with depression on many levels of perception. It its flow of insights and its scope—encompassing not only the author's own ordeal but also keen inquiries into the biological, social, and political aspects of the illness—The Noonday Demon has achieved a level of authority that should assure its place among the few indispensable works on depression."
— William Styron, author of Darkness Visible

"Andrew Solomon's The Noonday Demon is immensely readable and should be universally useful. It is indeed an atlas of depression, sensitively chronicling the illness's characteristics,social and cultural history, modes of treatment, and prospects. What makes it remarkable is a highly individual blend of the personal and the dispassionate,the work of a benign intelligence."
— Harold Bloom, author of How to Read and Why and Shakespeare: The Invention of the Human

"Frank . . . clearheaded [and] valuable . . . "
— Entertainment Weekly

"Compulsively readable, harrowing, and helpful, The Noonday Demon is an act of redemption in an epidemic ofsorrow."
— Louise Erdrich, author of Love Medicine and The Antelope Wife

"Solomon's done his homework . . . smart, lucid, and sometimesintensely moving."
— David Gate, Newsweek

"As the great Flaubert discovered, it's hard to write about boring people without being boring yourself. Similarly, it's hard to write at length about depression without depressing the reader. Yet in The Noonday Demon, Andrew Solomon, through his candor, intellectual elegance, and ultimately his human resilience, manages to write of traumas both deep and ordinary without leaving the reader traumatized. His book is a large achievement."
— Larry McMurtry, Pulitzer Prize-winning author of Lonesome Dove

"Solomon's highly readable, tag-all-bases new book . . . gives us nothing less than an evolving portrait of who, collectively, we are . . .ambitious and broadly synthesizing . . . [written with] considerable stylistic grace. . . . Solomon is knowledgeable, trenchant, and an admirable distiller of facts and perspectives."
— Sven Birkerts, The New York Observer
Coverage from NPR