Where She Went: A Novel (Paperback)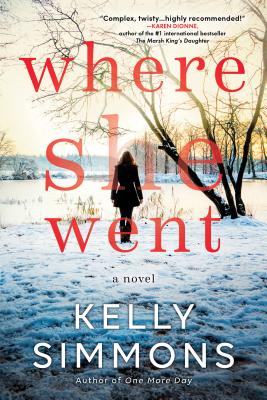 Description
---
Women's fiction with a wrenching twist, Where She Went follows one mother desperate to know which secrets took her daughter away from what should have been a normal college experience.
What happens when your worst fear comes true?
Her only daughter has just gone away to college, and Maggie O'Farrell knows she's turning into one of those anxious empty-nesters she used to mock. Worrying constantly, texting more than she should, even occasionally dropping by the campus "just to say hi." But Maggie can't shake the feeling that something terrible is about to happen to Emma.
And then, just as Maggie starts to relax, her daughter disappears.
The clues are disturbing. An empty dorm room where Emma was supposedly living. A mysterious boy described as Future Husband in her phone. Dormmates who seem more sinister than friendly. As Maggie combs over the campus looking for signs of her daughter, she learns more about Emma's life than she ever thought possible.
Kelly Simmons delivers another gripping novel in Where She Went, a conversation-starting story of letting go and the secrets that surface when the person hiding them is gone.
Also by Kelly Simmons:
One More Day
The Fifth of July
About the Author
---
Kelly is a former journalist and current novelist/advertising creative director. She is the author of Standing Still (2009) and The Bird House (2011), which both received outstanding trade reviews. She lives outside of Philadelphia.
Praise For…
---
"Kelly Simmons' Where She Went is the complex, twisty story of a college student who may or may not be in over her head and a mother who will do whatever she must to save her—whether her daughter realizes she needs saving or not. Fans of smart, sophisticated suspense will love Simmons' bold, relentless, and yet utterly relatable heroines. Highly recommended!" — Karen Dionne, author of the #1 international bestseller The Marsh King's Daughter

"Intense, compelling and provocative. This cinematic cat-and-mouse thriller beautifully explores the depths of a mother's loving persistence, and the terrifying vulnerability of a daughter's determination and bravery. Fans of Lisa Scottoline and Kate White--and Mean Girls--will race though the pages of this riveting story of dark secrets, duplicity, and hauntingly realistic danger." — Hank Phillippi Ryan, Nationally bestselling author of The Murder List

"A fast-paced thriller, inviting the reader to turn yet another page. The characters and setting are well-drawn, the plot is tight, and the writing flows in a way that keeps the story running full-out. Highly recommended for anyone who enjoys suspense, in-depth character study, and an unpredictable storyline." — New York Journal of Books

"An eerie tale of a parent's worst nightmare." — Woman's World

"Kelly Simmons tackles every empty-nesting mom's worst nightmare: your college freshman disappears without a trace. With engaging dual narration between the mother and her missing daughter, Simmons weaves a page-turning, topical story you'll remember long after the end." — Kaira Rouda, USA Today bestselling author of Best Day Ever and The Favorite Daughter

"Kelly Simmons's Where She Went is, at its essence, a visceral portrayal of a mother in the depths of emotional upheaval. Don't miss this one." — Carter Wilson, USA Today bestselling author of The Dead Girl in 2A and Mister Tender's Girl

"In Where She Went, Kelly Simmons is at the height of her game, writing with the utmost skill and nuance about a mother and daughter recovering from tragedy who become embroiled in their own separate but related investigations. Crackling with tension but also brimming with heart, this is a book you'll race through but not stop thinking about for days after." — Emily Carpenter, bestselling author of Burying the Honeysuckle Girls