Mastering Mountain Bike Skills (Paperback)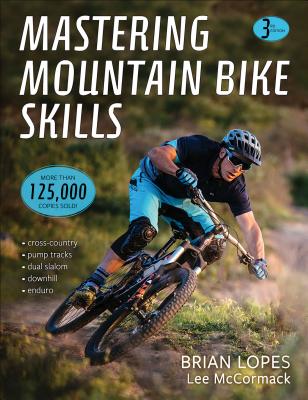 $24.95

Usually Ships in 1-5 Days
Description
---
If you want to ride like a pro, you should learn from a pro! In Mastering Mountain Bike Skills, Third Edition, world-champion racer Brian Lopes and renowned riding coach Lee McCormack share their elite perspectives, real-life race stories, and their own successful techniques to help riders of all styles and levels build confidence and experience the full exhiliration of the sport.
Mastering Mountain Bike Skills is the best-selling guide for all mountain biking disciplines, including enduro, pump track racing, dual slalom, downhill, cross-country, fatbiking, and 24-hour races. It absolutely captures the sport and offers everything you need to maximize performance and excitement on the trail. Learn how to select the proper bike and customize it for your unique riding style. Develop a solid skills base so you can execute techniques with more power and precision. Master the essential techniques to help you carve every corner, nail every jump, and conquer every obstacle in your path. Last, but not least, prepare yourself to handle every type of weather and trail condition that the mountain biking world throws at you.
Whether you're a recreational rider looking to rock the trails with friends, are a seasoned enthusiast, or are aspiring to be a top pro, Mastering Mountain Bike Skills will improve your ride and dust the competition. Don't just survive the trail—own the trail, and enjoy the thrill of doing it.
About the Author
---
Brian Lopes has had an unprecedented career of more than 20 years as a professional cyclist. He has been labeled "undisputedly, the best all-around, world-class cycling athlete" by USA Today.
Brian started racing BMX at the tender age of four, turned pro at the age of 17, and competed in the BMX circuit for seven years. In 1993, he channeled his efforts into mountain biking and later earned both a fifth-place finish and recognition in the sport in his first MTB race. He then won his first NORBA National race, and he has never looked back. He has won more than 19 titles in his mountain biking career, including nine National Championship titles, six UCI World Cup wins, and four UCI Mountain Bike World Champion titles, first in 2001 and then again in 2002, 2005, and 2007.
His enviable race resume made the Lopes name one of the most recognizable in the sport of cycling. Known for his flawless style and competitive drive, he is an inspiration to bikers and action sport enthusiasts around the world. Nominated in 2001 for the ESPY Action Sport Athlete of the Year award, he won the NEA (World Extreme Sports) award for Mountain Biker of the Year in 2000 and 2001. He was featured in the Sony PlayStation Downhill Domination game as himself. In 2008, he was inducted into both the Mountain Bike Hall of Fame and the BMX Hall of Fame.
In 2013, Brian took on the role of fitness trainer, working with the Honda, Red Bull, and Troy Lee 250 motocross team. In this capacity, Brian worked with Jessy Nelson, Cole Seely, and Shane McElrath. This opportunity allowed Brian to share his knowledge on the mental and physical fitness that racing requires.
Brian is currently working as a lead athlete brand ambassador generating brand awareness, producing relevant media content, and providing insightful research and development intelligence with the goal of creating exceptional cycling products. He races at select events, and he resides in Laguna Beach, California, with his wife, Paula, and his son, Maverick.
Lee McCormack is the world's leading mountain bike skills author and instructor. He has helped thousands of mountain bikers—from beginners to experts to world champions—ride better, safer, and faster. In his role as the skill development director for the National Interscholastic Cycling Association (NICA), McCormack created the curriculum and wrote the manual used to train high school mountain bike racers and their coaches throughout the United States.
McCormack's website, Lee Likes Bikes, is a favorite among devoted riders. The Lee Likes Bikes MTB School helps riders worldwide learn the skills he teaches in person. (Check out the site for videos showing the skills explained in this book, as well as more advanced skills.) As the founder and CEO of RipRow, McCormack is proud to be helping riders develop their skills and fitness off their bikes as well as on their bikes.
McCormack has been a mountain biker for almost 30 years, and he is still getting better, which makes mountain biking fun. He lives in Boulder, Colorado, with his wife, Arlette, and his twin daughters, Finley and Fiona. The whole family rides together whenever they can.
Praise For…
---
"I've known Brian for years, and he is one of the best mountain bike riders I ever rode with. Reading his book is sure to take your skills to the next level."
—Nino Schurter, MTB Olympic Gold Medalist (2016), Five-Time Cross Country World Champion
"Brian helped me achieve my dream to become a great bike racer. He showed me the dedication and discipline that one needs to make this happen. The experience Brian shares in his book will allow everyone to achieve their goals of becoming a better and safer rider."
—Cédric Gracia,4X World Cup and World Champion
"Working with Lee changed my world of mountain biking. He simply is THE best skills coach in the world. He took me from a pathetic off-road triathlete to an elite World Cup mountain bike racer."
—Lesley Paterson,XTERRA World Champion and Professional MTB Racer