The Complete Book of Spanish, Grades 1 - 3 (Paperback)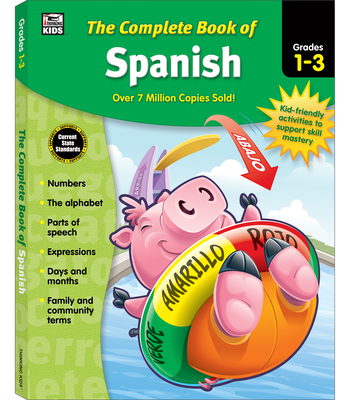 $16.99

Usually Ships in 1-5 Days
Description
---
Spanish Workbook for kids ages 6-9
Support your child's educational journey with The Complete Book of Spanish for Kids workbook
that helps 1st--3rd graders learn Spanish vocabulary, learn about Spanish culture, and more.
This Kid's Spanish Book is a great
way for your first, second, or third grader to have fun while learning Spanish, such as the alphabet, parts of speech, basic sight words, and more through a variety of Spanish learning activities that are both enjoyable AND educational
Why You'll Love This Spanish Learning Activity Book
Engaging and educational Spanish learning for kids. "Connect the dot", "matching", and "coloring" activities are a few of the fun exercises that teach Spanish in a way that helps inspire learning into your child's Spanish homeschool or classroom curriculum.
Testing progress along the way. A final review is included at the end of the Spanish book to test students overall knowledge. An answer key and English-Spanish glossary is also included in the back of the Spanish workbook to track your child's progress.
Practically sized for every activity The 416-page Spanish workbook is sized at about 10 3/4 inches x 8 inches--giving your child plenty of space to complete each

exercise.
About Carson Dellosa
For more than 40 years, Carson Dellosa has provided solutions for parents who want to help their children get ahead and for teachers who want their students to meet and exceed set learning goals. Carson Dellosa partners with you in supporting your child's educational journey every step of the way.
The Spanish Language Learning Workbook Contains:
Spanish songs and chants, and Spanish learning cards
An English-Spanish glossary, bibliography of children's literature, and answer key
Perfectly sized at about 10 3/4" x 8"