A Kind of Homecoming (Paperback)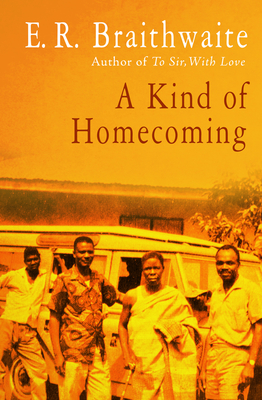 $23.99

Usually Ships in 1-5 Days
Description
---
From the bestselling author of To Sir, With Love comes the moving personal memoir of a westernized black man who journeys to Africa in search of his roots and discovers a vibrant and extraordinary society on the verge of monumental change
In the early 1960s acclaimed British Guianese author E. R. Braithwaite embarked on a pilgrimage to the West African countries of Ghana, Guinea, Liberia, and across Sierra Leone just as the emerging nation was preparing to declare its independence. What Braithwaite discovered was a world vastly different from the staid, firmly established British society in which he had spent most of his life. In a place as foreign to him as the dark side of the moon, he was overcome by colorful sights, sounds, and smells that vividly reawakened lost memories from his childhood. Entering the intimate circles of the local intelligentsia, Braithwaite was able to view these newly evolving African societies from the inside, struck by their mixtures of passion and naïveté, their political obsessions and technological indifference. The author discovered a world that fascinated, excited, and, in some cases, deeply troubled him—and in the process he discovered himself.
E. R. Braithwaite's A Kind of Homecoming is at once an enthralling personal journey and an eye-opening chronicle of a time of great change on the African continent that helps us to better understand the West Africa of today.
About the Author
---
E. R. Braithwaite was born in British Guiana (now Guyana) in 1912. Educated at the City College of New York and the University of Cambridge, he served in the Royal Air Force during World War II. Braithwaite spent 1950 to 1960 in London, first as a schoolteacher and then as a welfare worker—experiences he described in To Sir, With Love and Paid Servant, respectively. In 1966 he was appointed Guyana's ambassador and permanent representative to the United Nations. He also held positions at the World Veterans Federation and UNESCO, was a professor of English at New York University's Institute for Afro-American Affairs, taught creative writing at Howard University, and was the author of five nonfiction books and two novels. He passed away in 2016 at the age of 104.
 
Praise For…
---
"Vividly written . . . [with] a merit which transcends the mere felicity of description." —Sage Journals
"Despite its modesty this gentle book . . . trenches on very serious issues." —Saturday Review