Home Waters: Discovering the submerged science of Britain's coast (Paperback)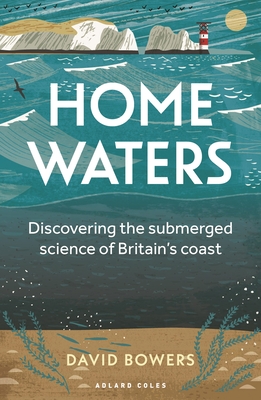 $18.00

Usually Ships in 1-5 Days
Description
---
A fascinating and original look at how the sea has defined Britain - and decided the course of its history - for thousands of years.

Being an island nation is a core part of the British identity. An estimated two thirds of the world's population have never seen the sea, but in the UK that drops to under 10 per cent. Yet most people don't appreciate the impact our position on the edge of a continental shelf has had on our history, going back thousands of years.

Our coast neither starts nor ends at the beach, and this eye-opening book takes a look beneath the surface to explore the forces of nature that have made Britain what it is. We experience some of the highest tides on the planet and we are battered with waves that have travelled halfway around the globe before they get here, but most of what we understand about our unique waters has only been discovered in living memory.

In this fascinating guided tour of the fantastically varied British coastline, Professor David Bowers combines oceanography with maritime history, explaining tides, currents and waves in an accessible way whilst revealing how they have been responsible for both salvation (the Channel alone checked the Nazi advance in 1940) and disaster (such as the catastrophic 1953 flooding that led to the ingenious development of the Thames tidal barrier). He covers everything from how ocean swell waves were first recorded here in preparation for the D-Day landings, to how the first underwater light measurements paved the way to modern ocean satellite observation.

This is a story 8,000 years in the making, ever since the country broke away from mainland Europe in the Mesolithic era, and in his insightful and irreverent telling of it Professor Bowers shows that the British Isles are defined by the sea, regardless of whether you look at them from land or water. With exclusive photos and specially commissioned illustrations, the book encourages you to visit all the places it explores, but when you stand on the beach or clifftop you will never think of Britain in quite the same way again.
About the Author
---
David Bowers is Professor Emeritus of Oceanography at Bangor University, Wales. He co-wrote the standard textbook in the subject, Introducing Oceanography (Dunedin, 2012), as well as the Very Short Introduction to Tides (OUP, 2019).
Praise For…
---
"Bowers looks beyond the beach to what lies beneath the surface of the sea and how it works. The intertwining of oceanography and history is fascinating. The sea will always holds its secrets, but Home Waters makes them a bit more accessible." —Geographical, magazine of the Royal Geographical Society

"An unusual and stimulating book." - Yachting Monthly