The Word at War: World War Two in 100 Phrases (Paperback)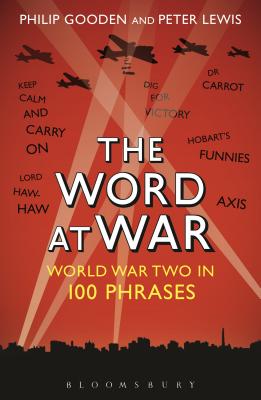 $13.95

Usually Ships in 1-5 Days
Description
---
War words have embedded themselves in our collective psyche; British politicians are fond of invoking the 'Dunkirk spirit' whenever the country is faced with major crisis or even minor adversity, and Roosevelt's famous description of Pearl Harbor as 'a date which will live in infamy' was echoed by many US commentators after the 9/11 attacks.

So far, so familiar. Or is it? How many of us know, for instance, that 'Keep Calm and Carry On', far from achieving its morale-boosting aim, was considered at the time to be deeply patronizing by the people it was directed at, and so had only limited distribution?

The Word at War explores 100 phrases spawned and popularized in the lead-up and during the conflict of World War Two. Substantial essays explore and explain the derivations of, and the stories behind, popular terms and phraseology of the period, including wartime speeches (and the words of Churchill, Hitler and FDR); service slang; national stereotypes; food and drink; and codewords.
About the Author
---
Philip Gooden read English at Magdalen College, Oxford, and then taught at secondary level for many years. In 2001 he became a full-time writer. He is the author of the Nick Revill series, a sequence of historical mysteries based in Elizabethan London and set around Shakespeare's Globe theatre. Titles so far published are Sleep of Death, Death of Kings, The Pale Companion (shortlisted for the Ellis Peters Historical Dagger award in 2002), Alms for Oblivion, Mask of Night and An Honourable Murderer. A contributor to various short story anthologies, Philip Gooden also works as an editor, most recently on the Mammoth Book of Literary Anecdotes and a new edition of Arthur Conan Doyle's The Lost World for Penguin Classics. He has also written the popular Who's Whose?: A No-Nonsense Guide to Easily-Confused Words, published by Bloomsbury. He lives in Bath where he is currently working on the first in a new series of historical novels.

Peter Lewis taught German at St Anne's College, Oxford and worked as a publishing commissioning editor before becoming a freelance translator, writer and project manager. Recent translations include The Mad Science Book (Quercus) and Roman Elegy (Haus Publishing).
Praise For…
---
"This eloquent pair of authors are a language lover's dream. The book captures the pugnacious parlance of wartime in all its oxymorons, its inventive acronyms, its clever rhetoric, its racy slang and its appalling euphemisms. There are surprises, too: humour, sexiness and neology: Jeep, SPAM, flak, kamikaze and mega, to name a few linguistic creations. The enduring semantic legacy, over seven decades, teaches us a lot about how we communicate in a crisis; something that's particularly pertinent today." —Guardian 'Mind your language' columnist

"Much of the value in this little book lies in the similarly extensive background details that Gooden and Lewis supply throughout." —World Wide Words

"This wonderful book defines the wartime words and phrases that still resonate in the language of peacetime." —Saga Magazine