Dinosaur A to Z (Hardcover)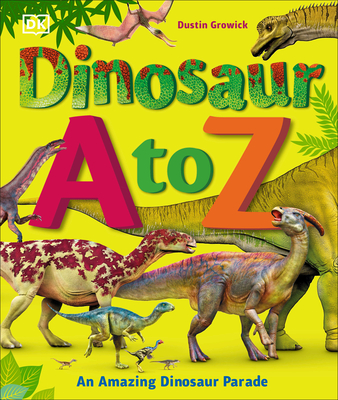 $24.99

Usually Ships in 1-5 Days
Description
---
A catalog of more than 150 dinosaurs and other prehistoric creatures—listed in alphabetical order from Abelisaurus to Zuniceratops—that is perfect for children as young as five.
Written by American Museum of Natural History educator Dustin Growick, Dinosaur A to Z is a colorful parade of the most exciting creatures that have ever lived and provides a line-up of the biggest, smallest, baddest, nicest, scaliest, and everything-in-between dinosaurs that have been discovered to date, as well as other prehistoric creatures of the air, land, and sea. Specially commissioned CGI images of children alongside the dinosaurs illustrate exactly how big—or small—each one was in comparison, and children can learn how to pronounce dinosaur names and discover the meaning behind each, and learn about different dinosaur shapes, sizes, and meals.
Dinosaur A to Z is the perfect first visual dictionary for little dinosaur enthusiasts.
About the Author
---
Dustin Growick loves dinosaurs. He is an educator at the American Museum of Natural History in New York, where he regularly takes people on tours of the museum. He is also the Director of Dinosaur Studies at Museum Hack and presents a show on YouTube called "The Dinosaur Show with Dustin Growick." This is Dustin's second book with DK. His first book with DK, Utterly Amazing Dinosaur, was published in 2016 and is packed with pop-ups, flaps, games, activities, and mind-blowing dino facts.