Careers: The Graphic Guide to Planning Your Future (Paperback)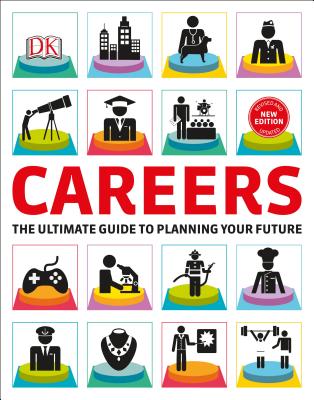 $19.99
Title is Backordered
Description
---
A must-have guide to the world of work.

Featuring over 400 careers, with 134 main job entries and hundreds of related careers, this career planning guide will help you find your dream job.

Discover your own personal career coach! This career development book includes:

   • Easy-to-navigate content and spread structure that helps readers to find the perfect career for them
   • Career counseling and career management advice
   • At-a-glance panels that provide information on interests, entry qualifications, lifestyle, location and the realities of the job
   • Skills Guide boxes that help readers to assess the suitability of each of the main jobs featured
   • Bright, bold, icon-led design that makes the process of job-hunting less daunting and more fun

The A to Z of careers! From social media and IT careers to jobs in architecture, hospitality, medicine, science, law and the environment, this careers directory will help you kickstart your new career path! The featured jobs have been selected by an expert consultant and a team of career advisors.

Packed with practical and inspirational advice about our constantly changing job market, this is your ultimate career resource. The revised edition reveals the most exciting jobs in data science and online platforms, while also arming you with all the information you need for career success in more "traditional" areas, from accounting to teaching.

Whether you are a teenager seeking career advice or a young adult or adult thinking about a career change or new career, Careers is here to help you answer that all-important question — what do you want to be? 

Let the job-hunting begin!
About the Author
---
Sarah Pawlewski, consultant and principal author, is a career advisor with more than 20 years' experience. She runs her own consultancy and works with clients of all ages across schools, colleges, and industry. Sarah holds degrees in psychology and career guidance, and is a member of the Career Development Institute.

DK was founded in London in 1974 and is now the world's leading illustrated reference publisher and part of Penguin Random House, formed on July 1, 2013. DK publishes highly visual, photographic nonfiction for adults and children. DK produces content for consumers in over 87 countries and in 62 languages, with offices in Delhi, London, Melbourne, Munich, New York, and Toronto.
Praise For…
---
"This is the prettiest, most well-organized, useful and up to date guide to careers that I have ever seen. It is a wonder, and it is a treasure. I haven't said this about any book, in the last twenty years." — Dick Bolles, author, What Color Is Your Parachute?
"It will be a useful book for our family over the next few years as we begin the college/career process…I hope this book can give our kids some options they may not have originally considered." — SincerelyStacie.com
"This gives readers a range of options." — Booklist
"Getting a kid pointed in the right direction toward a career that is both meaningful and fulfilling is invaluable. Careers does a great job of laying out those opportunities." — GeekDad
"A useful additional purchase for a career section in a public or school library." — VOYA Magazine
"Careers is the ideal reference for undecided teens, parents, and guidance counselors looking for inside information on hundreds of careers." — San Diego Family Magazine
"Inspiring and imaginative as well as practical, Careers has charts and tables that help young people gauge interest about possible careers—it's like having a personal career advisor by your side whenever you need it!" — ChildressInk.com