Gothic Classics: The Castle of Otranto and The Old English Baron (Haunted Library Horror Classics) (Paperback)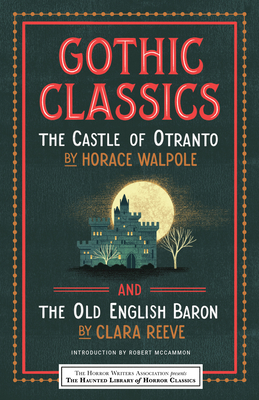 $14.99

Usually Ships in 1-5 Days
Description
---
Manfred, the lord of the castle of Otranto, has long lived in dread of an ancient prophecy: it's foretold that when his family line ends, the true owner of the castle will appear and claim it. In a desperate bid to keep the castle, Manfred plans to coerce a young woman named Isabella into marrying him.
Isabella refuses to yield to Manfred's reprehensible plan. But once she escapes into the depths of the castle, it becomes clear that Manfred isn't the only threat. As Isabelle loses herself in the seemingly endless hallways below, voices reverberate from the walls and specters wander through the dungeons. Otranto appears to be alive, and it's seeking revenge for the sins of the past.
About the Author
---
HORACE WALPOLE (1717-1897) was an English writer, art historian, man of letters, and collector known for his novel The Castle of Otranto.
LESLIE S. KLINGER is the two-time Edgar® winning editor of New Annotated Sherlock Holmes and Classic American Crime Fiction of the 1920s. He has also edited two anthologies of classic mysteries and, with Laurie R. King, five anthologies of stories inspired by the Sherlock Holmes Canon. Klinger is the series editor of Library of Congress Crime Classics, a partnership of the Library of Congress and Poisoned Pen Press/Sourcebooks. He is a former Chapter President of the SoCal Chapter of the Mystery Writers of America and lives in Malibu, California.