All in All Journaling Devotional: Loving God Wherever You Are (Hardcover)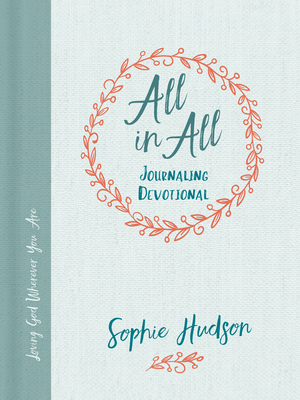 $14.99

Usually Ships in 1-5 Days
Description
---
Wherever you are, let Jesus be your all. 
 
Written by popular author and blogger Sophie Hudson, this beautiful devotional journal for teens and young women reminds you that Jesus is your All in All—over all, through all, and in all that you do.
 
As you dig in to Sophie's words and wit, you'll better understand the wholeness and freedom that come from a life filled with Jesus. Each of the 100 devotions is followed by journaling prompts that will get you writing, keep you thinking, and help you grab all the goodness He has waiting for you.
About the Author
---
Sophie Hudson loves to laugh more than just about anything. Through her books and her popular blog, BooMama.net, she offers encouragement and hope in the everyday, joy-filled moments of life. A devoted fan of pajama pants, Sophie loves cheering like crazy at college football games and watching entire seasons of TV shows in record time. She lives with her husband and son in Birmingham, Alabama.