I Love a Cop: What Police Families Need to Know (Paperback)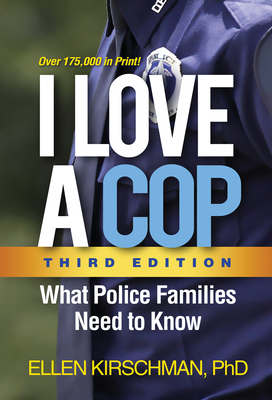 $16.95

Usually Ships in 1-5 Days
Description
---
Police families are brave, resilient, and proud--and they face remarkable challenges, sometimes on a daily basis. Now thoroughly updated for today's turbulent times, this is the resource that cops and their loved ones have relied on for decades. Trusted expert Ellen Kirschman gives you practical ways to manage the stress of the job and create a healthy, supportive home environment. The third edition features the latest information, new stories from police families, two new chapters, and fully updated resources. Dr. Kirschman acknowledges the tough realities of life on the force and offers frank, realistic suggestions for handling everyday relationship dilemmas as well as serious issues like trauma, domestic violence, and alcohol abuse. Whether you read this book cover to cover or reach for it when problems arise, you will find no-nonsense guidance to help your family thrive.

Mental health professionals, see also Counseling Cops: What Clinicians Need to Know, by Ellen Kirschman, Mark Kamena, and Joel Fay.
About the Author
---
Ellen Kirschman, PhD, is a police and public safety psychologist, volunteer clinician at the First Responder Support Network, and sought-after speaker and workshop facilitator. Dr. Kirschman is a recipient of the Award for Outstanding Contributions to Police and Public Safety Psychology from the Police and Public Safety section of Division 18 (Psychologists in Public Service) of the American Psychological Association and the Distinguished Contribution to Psychology award from the California Psychological Association. She is coauthor of a book for mental health professionals, Counseling Cops, and author of the self-help guides I Love a Cop, Third Edition, and I Love a Fire Fighter, as well as the mystery novels Burying Ben, The Right Wrong Thing, and The Fifth Reflection. She lives in Redwood City, California. Her website is www.ellenkirschman.com. She also blogs with Psychology Today.
Praise For…
---
"Dr. Kirschman recognizes the modern challenges facing police officers and the families who love them. I Love a Cop is essential reading for anyone looking to understand the person beyond the badge."--David M. Corey, PhD, ABPP, police psychologist

"My wife and I have both read I Love a Cop through and through, and our home life is stronger for it. This is an essential book for anyone with a loved one on the job--anyone who needs to understand the inherent strains, quirks, and challenges of police work. Dr. Kirschman writes with skill, wisdom, and grace, honoring police officers while still holding them accountable. I Love a Cop is a gift."--Sgt. Adam Plantinga, San Francisco Police Department, 16-year police veteran and author of 400 Things Cops Know

"This book contributed to incredible changes in my life and marriage by teaching me that I was not alone in times of pain. The law enforcement culture has an unspoken code that all matters stay 'in house,' but cops are people first, and sometimes we all need help. Dr. Kirschman really gets the issues we face as a family of blue."--Karen F., Chico, California

"Dr. Kirschman does a terrific job of addressing difficult issues that those in the cop world usually don't talk about. The book brings into perspective the difficulties and risks of the job and the impact on our families and ourselves, as well as ways to keep the family and self whole. This was a 'must read' for me as the wife of a police officer, an officer myself, and a mother."--Vicky M. Stormo, retired Chief of Police, 35-year police veteran; Interim Executive Director, Behind the Badge Foundation

"I Love a Cop, Third Edition, is essential reading. Not only do I give a copy to all my new hires and their families, but my own family benefited greatly from growing up with this book."--Susan E. Manheimer, Chief of Police, San Mateo Police Department; past president, California Police Chiefs Association

"This continues to be the go-to book for successfully navigating the law enforcement life. The book lives up to its title--everyone who loves a cop should read it."--Karen Solomon, author of The Price They Pay and founder of Blue H.E.L.P.

"As the wife of a veteran police officer, I found this book to be a great resource. I loved reading about others with similar experiences. Dr. Kirschman has helped me understand how the job affects my spouse, how I can take care of myself during times of chaos, and ways we can communicate better and strengthen our relationship."--Karin B., Vacaville, California

"During my tenure as Chief of Police, I gave a copy of this book to each new officer I swore into my department. I explained that the Police Academy teaches the 'how-tos' of the job--and Dr. Kirschman teaches how to manage the impact on our lives. The ever-changing demands placed on law enforcement personnel today are all covered insightfully in this remarkable third edition."--Lucy Carlton, retired Chief of Police, Los Altos Police Department, California

"I have been recommending this incredibly compassionate and wholly realistic book since it first came out. Policing has changed in the past two decades, but Dr. Kirschman's passion for this profession has not. The third edition includes new coverage of substantive issues such as social media use, bad press, racial tensions, and more. I teach thousands of police officers each year in topics ranging from officer safety to gender dynamics, and I Love a Cop is one of the two books that I insist every police officer must purchase, read, and share."--Sgt. Betsy Brantner Smith (ret.), law enforcement trainer, Winning Mind Seminars

"I highly recommend [this book] to mental health professionals, faith-based helpers, peer supporters, and family members. [It offers] invaluable insights and constructive suggestions." (on the second edition)
— International Journal of Emergency Mental Health

"Police families can, in fact, thrive, and [Kirschman's] got the success stories to prove it. Preparedness is one of the keys to that state, and this book...shows how to get there." (on the second edition)
— Library Journal