The Incredible Women of the All-American Girls Professional Baseball League (Hardcover)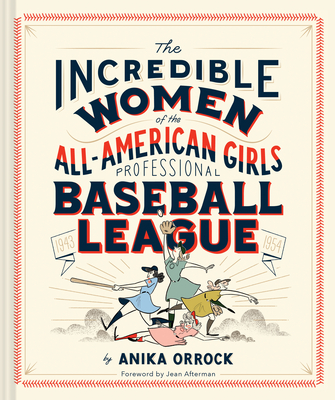 $19.95

Usually Ships in 1-5 Days
Description
---
This book chronicles the history of the All-American Girls Professional Baseball League and the stories of the first women to play professional baseball in a league of their own.

"In 1941, the world was at war, and with American men fighting overseas, the much needed pastime of professional baseball was in danger of extinction—until women stepped up to the plate."

In this heartwarming illustrated history, the League's story is told by the ones who know it best: the players. Author Anika Orrock collects a variety of funny, charming, wince-worthy, and powerful vignettes told by the players themselves about their time playing the American pastime.

• Features stories of grit and perseverance against all odds, told by the players themselves
• Filled with player statistics, historical beats, headlines, and more; and fully illustrated in Anika's vibrant style
• A visually engaging, readable women-led history book

Written in an approachable manner and beautifully illustrated, The Incredible Women of the All-American Girls Professional Baseball League is a one-of-a-kind story told through the women's own voices and their own perspectives.

This book ultimately proves that the incredible women of the AAGPBL truly were in a league of their own.

• A unique celebration of a specific moment in women's and sports history
• A great read for experienced and new sports fans alike, readers young and old, baseball fans, and anyone looking for an inspiring gift for an aspiring professional sports player
• Perfect on the shelf with books like Women in Science: 50 Fearless Pioneers Who Changed the World by Rachel Ignotofsky, Strong is the New Pretty by Kate T. Parker, and Rad American Women A-Z: Rebels, Trailblazers, and Visionaries who Shaped Our History . . . and Our Future! by Kate Schatz
About the Author
---
Anika Orrock is an illustrator, writer, designer, cartoonist, humorist, and baseball devotee from the Bay Area, California. She currently lives in Nashville, Tennessee.
Praise For…
---
"This book does a tremendous job of providing a mosaic of perspectives from those who knew the league best: the players themselves...Fans who love the game's history and appreciate deftly drawn artwork will certainly appreciate Orrock's contribution to the legacy of the AAGPBL."
-NINE: A Journal of Baseball History Culture
A 2020 Books of the Year selection
"In this gorgeously illustrated history of the AAGPBL, author Anika Orrock shares stories from the first women to play professional baseball in their own words, from the day they stepped up to the plate to the moment the league closed. Exuberant and inspiring, this charming look at a key moment in women's sports history will delight young baseball fans." - A Mighty Girl
Best Baseball Books of 2020 selection
"The best of several books about the wartime league is a coffee-table keepsake because the author is also an accomplished illustrator." -Sports Collectors Digest
Holiday Gift Guide selection
"If you only know the AAGPBL from the movie "A League of Their Own".you've barely scratched the surface. Through some fantastic illustrations (and, yes, "fantastic" is an understatement), Anika book tells the story of the league from the perspective of the women who actually played in it." - Hall of Very Good
"This book is a one-of-a-kind resource that proves once and for all that the women of the All-American Girls Professional Baseball League really were in a league of their own…a must-read for anyone...interested in women's sports history."
-Buzzfeed
"Orrock's
Incredible Women
blends funny, charming, yet powerful vignettes told by the players themselves, with a whimsically stylized graphic design that delivers a remarkably detailed (and all-ages-accessible) oral history of the pioneering league's 12-year run - and unique place in baseball history." - Good Seats Available podcast
"But with all [Orrock's] talents, she figures out a way to piece together vignettes about the league with style and grace to reflect the sense of importance, excitement, competition and fun that was going on by those who were there.What makes this history come alive is Orrock's mid-century retro drawings and colors." -
Farther Off the Wall
"Orrock's stories and illustrations are funny, charming, and most importantly, visually engaging, but the best is always in the testimonies, as they go through headlines, rivalries, stats, and important moments of the league's short but memorable trajectory... It's meant to inspire and empower, and it fully delivers."
-Fansided

"Lovingly written and delightfully illustrated"
- Scott Ostler, San Francisco Chronicle

"A most welcome addition to the genre of books about the women's pro baseball league that sprang up during World War II. Employing an energetic style...the author hypnotizes the reader into effortlessly absorbing the historical and highly anecdotal text, bolstered by player memories and quotations from period publications...This is a passionate and inspiring re-telling of the AAGPB story."
-Spitball Magazine

"With energy, sophistication and validation, this proves again there's crying in baseball, if just tears of joy for generations of young girls who have a new entry point to this history now that 28 years have passed since the movie 'A League of Their Own.'"
-Sports Business Daily

Holiday Gift Guide Pick
"The Incredible Women of the All-American Girls Professional Baseball League details the history of the league and tells the stories of the first women to play professional baseball in a league of their own. Illustrator and author Anika Orrock collects a variety of charming and powerful (and sometimes cringe-inducing, given the gender barrier these women were forced to overcome) vignettes told by the players themselves about their time participating in America's pastime, along with hard-to-find player statistics, historical beats, and headlines, fully illustrated in Orrock's vibrant style." - Forbes.com