The Color of Pixar: (History of Pixar, Book about Movies, Art of Pixar) (Disney Pixar x Chronicle Books) (Hardcover)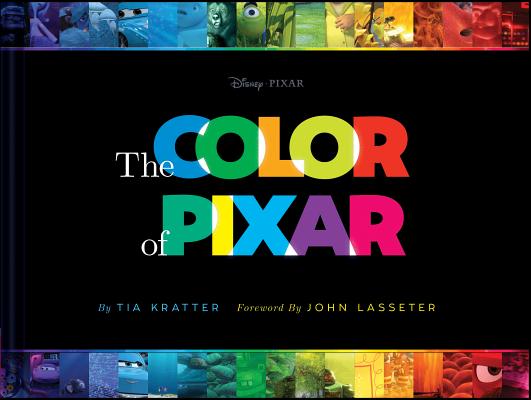 $29.95

Usually Ships in 1-5 Days
Description
---
Bold and beautiful, this volume presents hundreds of film stills from the Pixar archives in a glorious spectrum of color. Starting with bright white images and seamlessly flowing through the colors of the rainbow, it becomes crystal clear how each frame tells a story. Bound into a gorgeous volume, The Color of Pixar encapsulates everything there is to love about the studio: the attention to detail, the playful characters, and the sheer scope of their work in over 20 years of iconic feature films.

Copyright ©2017 Disney Enterprises, Inc. and Pixar. All rights reserved.
About the Author
---
Tia Kratter joined Pixar Animation Studios in 1993 during production of the studio's first feature film, Toy Story. She was the shader art director on five films, including Brave. She currently manages Pixar University's art and film education classes.

John Lasseter is a two-time Academy Award® winner, director, chief creative officer at Walt Disney and Pixar Animation Studios, and principal creative officer at Walt Disney Imagineering.
Praise For…
---
"What you get is a hundreds of iconic-looking Pixar artworks to immerse yourself in, and if that's your bag, then you're certain to love this book."
ImagineFX

"What you get is a hundreds of iconic-looking Pixar artworks to immerse yourself in, and if that's your bag, then you're certain to love this book."
ImagineFX

"A unique little picture book (with virtually no text) that clearly demonstrates how color is creatively employed in Pixar features. No other words are necessary - except one: Delightful!"
-Cartoon Research

"A unique little picture book (with virtually no text) that clearly demonstrates how color is creatively employed in Pixar features. No other words are necessary - except one: Delightful!"
-Cartoon Research

"it's a book that long-time Pixar fans will enjoy poring over, because each frame will bring back memories of watching these films."
-GeekDad

"it's a book that long-time Pixar fans will enjoy poring over, because each frame will bring back memories of watching these films."
-GeekDad