Artists of Wyeth Country: Howard Pyle, N. C. Wyeth, and Andrew Wyeth (Paperback)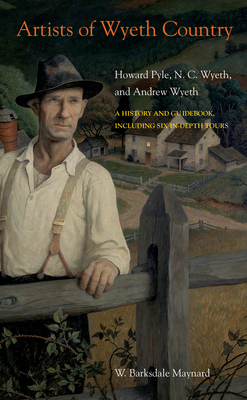 $23.00
Title is Backordered
Description
---
Few artists have ever been so beloved—or so controversial among art critics—as Andrew Wyeth. The groundbreaking book Artists of Wyeth Country presents an unauthorized and unbiased biographical portrait of Wyeth, based on interviews with family, friends, neighbors—even actress Eva Marie Saint.  Journalist W. Barksdale Maynard shines new light on the reclusive artist, emphasizing Wyeth's artistic debt to Howard Pyle as well as his surprising interest in surrealism. The book is filled with brand-new information and fresh interpretations.
 
Artists of Wyeth Country also comprises the first-ever guidebook to the artistic world of Chadds Ford, Pennsylvania, center of the Brandywine Tradition begun by Howard Pyle. Six in-depth tours for walking or driving allow the reader to stand exactly where N. C. and Andrew Wyeth stood, as has never been fully possible before.
 
As Maynard explains, Andrew Wyeth's artistic process was influenced by Henry David Thoreau's nature-worship and by his habit of walking daily. Newly commissioned maps, rare aerial photographs, as well as glorious full-color images and artworks of the landscape (many never reproduced before) illustrate the text.
 
A fascinating exploration of the world of Andrew Wyeth, Artists of Wyeth Country is sure to become an essential new source for those who love American art as well as for admirers of the scenic landscapes of the Mid-Atlantic, of which the Brandywine Valley is an exceptional example. As a rare, unauthorized biography of Andrew Wyeth, it opens the door for an entirely new understanding of the American master.
 

 
About the Author
---
W. Barksdale Maynard is a professional writer and journalist. He has lectured on art and architecture at Princeton University, Johns Hopkins University, the University of Delaware, and elsewhere, and is a tour guide at Longwood Gardens. He is the author of seven books and two co-authored books, including The Brandywine: An Intimate Portrait and Walden Pond: A History.