National Geographic Kids Dinosaur Atlas (Hardcover)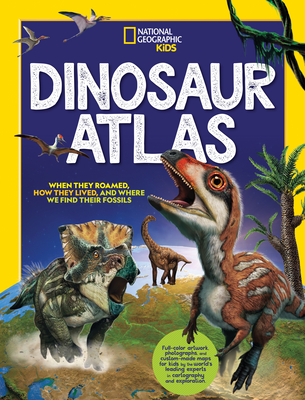 Description
---
Dig into the amazing world of dinosaurs! This one-of-a-kind atlas from National Geographic is packed with eye-popping illustrations, incredible fossil finds, and fascinating maps custom made for kids by the world leaders in mapmaking and exploration.

More than 250 million years ago, our planet looked and felt a lot different from how it does now. The seven separate continents we have today hadn't yet taken shape. Instead, there was only one "supercontinent" called Pangaea. This was the beginning of the time of the dinosaurs.
Journey from the Triassic to the Jurassic to the Cretaceous to find out how Earth slowly shifted over time, and how the variety of dinosaurs ruling the planet changed too. Discover how some of these creatures took to the land and others to water or air, and what their habitats were like. Explore how these prehistoric lands correspond to current locations, and hear from paleontologists about the groundbreaking discoveries they are making in these fossil-rich places today.
Experience the Mesozoic world of the dinosaurs as never before. This is one atlas to sink your teeth into!

You'll find: * Newly interpreted findings and new art of fan favorites such as
T. rex, Triceratops,
and
Spinosaurus
* New info and more recently discovered dinosaurs from less explored parts of the world * Profiles of more than 75 prehistoric creatures * Custom-made, kid-friendly maps of every dinosaur-inhabited continent, from the Pangaea to the modern day, that explain which creatures lived where, what the habitats were like, and where dinosaur bones are being found today. * Eye-popping, full-color illustrations of dinosaurs and the worlds they inhabited.* Profiles of diverse paleontologists from around the world * Special sections introducing the dinosaur family tree, a prehistoric era timeline, the geography of the prehistoric globe, what happened to the dinosaurs, and a dinosaur dictionary.
Young paleontologists may also enjoy these other National Geographic books:
You Can Be a Paleontologist! by Scott Sampson
1,000 Facts About Dinosaurs, Fossils, and Prehistoric Life by Patricia Daniels
National Geographic Kids Readers:T. rex by Andrea Silen
National Geographic Kids Readers: Dinosaurs by Kathleen Weidner Zoehfeld
Everything Dinosaurs by Blake Hoena
Weird But True: Dinosaurs
Dino Records: The Most Amazing Prehistoric Creatures Ever to Have Lived on Earth
Ultimate Dinopedia: The Most Complete Dinosaur Reference Ever
National Geographic Little Kids First Big Book of Dinosaurs
About the Author
---
NATIONAL GEOGRAPHIC and maps go together like latitude and longitude. For more than 130 years, National Geographic maps have helped spread geographic knowledge to people around the world. Eye-catching graphic elements give the maps their distinctive look and enhance their readability. National Geographic combines the latest data gathered by space-age technology with innovative mapping techniques to create state-of-the-art political, physical, and thematic maps. Meticulous research and attention to detail have established a standard of excellence that is recognized worldwide.

STEVE BRUSATTE, a paleontologist on the faculty of the School of GeoSciences at the University of Edinburgh in Scotland, served as the expert reviewer for this atlas. He grew up in the midwestern United States and has a B.S. in Geophysical Sciences from the University of Chicago, M.Sc. in Paleobiology from the University of Bristol, and Ph.D. in Earth and Environmental Sciences from Columbia University in New York. He has written more than 150 peer-reviewed scientific papers during his 15 years of research in the field, named and described over a dozen new species of dinosaurs and mammals, and led groundbreaking studies on how dinosaurs rose to dominance and eventually went extinct, and were then replaced by mammals. Among his particular research interests are the evolutionary transition between dinosaurs and birds and the rise of placental mammals. He is also a noted specialist on the anatomy, genealogy, and evolution of the carnivorous dinosaurs like Tyrannosaurus and Velociraptor. His 2018 book, The Rise and Fall of the Dinosaurs, was a New York Times best seller, and he is the science consultant for the Jurassic World film franchise.