1,000 Facts About Ancient Egypt (Hardcover)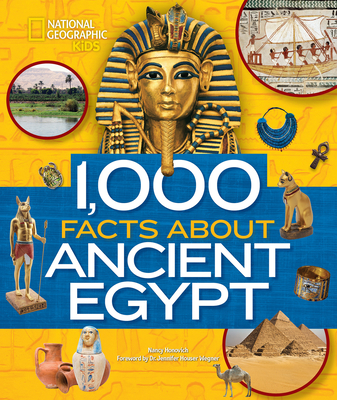 $14.99

Usually Ships in 1-5 Days
Description
---
Mummies, pyramids, pharaohs, King Tut! Kids everywhere are fascinated by the wonders of ancient Egypt, and this colorful reference book is jam-packed with 1,000 fascinating facts.

From the Great Pyramid and the Valley of the Kings to the Nile River and Cleopatra, discover all you have ever wanted to know about this ancient civilization. Unearth ancient hieroglyphs and their meanings; find out what was in King Tut's tomb; and get insights about the science of mummification. Learn about ancient Egyptian gods and famous pharaohs, and follow Egypt's battles for power in the world. After this deep dive into Egyptology, you'll be able to dazzle your friends and family with your newfound knowledge.
About the Author
---
NANCY HONOVICH is the author of many articles, short stories, and books for children that explore a wide range of subjects, from knights and inventors to animals all over the world. She works as an editor in New York City.

Expert reviewer DR. JENNIFER R. HOUSER WEGNER is a research scientist in Penn Museum's Egyptian section and adjunct assistant professor in the department of Near Eastern Languages and Civilizations at the University of Pennsylvania. She served as keeper of the museum's Egyptian section from 1996 to 2000. Dr. Wegner has contributed to numerous publications and presented at several annual meetings of the American Research Center in Egypt and at the International Congress of Egyptologists in Cambridge, U.K. She has also served as epigrapher/artist on expeditions to Bersheh, Saqqara, and Abydos in Egypt. She earned her B.A in Egyptology from the University of Pennsylvania and doctorate from Yale University.