The Joshua Generation: A 40-Day Journey Into Your Promised Land (Paperback)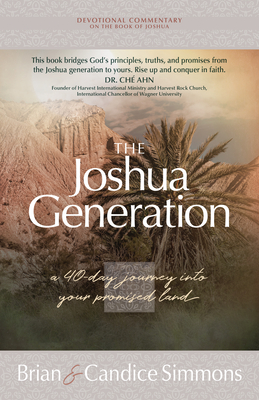 $16.99

Usually Ships in 1-5 Days
Description
---
God is your breakthrough.
Every promise in his book is yours.
Stuck in a spiritual wilderness, it can be easy to forget that God remains the God of overcomers. The power and victory present in the Old Testament still exist for Christians today.
In this biblical commentary, Brian and Candice Simmons will take you on a forty-day journey through Joshua with the empowering story of the Joshua generation. Be transformed from a wanderer to a warrior as you learn truths and strategies that will equip you to conquer giants of unbelief and possess your promised land. Just like Joshua, you can trust God's promises during uncertainty. His strength can restore and release you to do his work for his purpose.
A new breed of believers is rising, stirred by the acts of Joshua and the people who followed him. Join these overcomers and watch God revive the faith of this generation.
About the Author
---
BRIAN & CANDICE SIMMONS have been described as true pioneers in ministry. Their teaching and spiritual gifts have opened doors into several nations to bring the message of authentic awakening and revival to many. For many years, they have labored together to present Christ in his fullness wherever God sends them. After a dramatic conversion to Christ in 1971, Brian and Candice answered the call of God to leave everything behind and become missionaries to unreached peoples. Taking their three children to the jungle tropical rain forest of Central America, they planted churches for many years with the Paya-Kuna people group. After their ministry overseas, Brian and Candice returned to North America, where they planted numerous ministries, including a dynamic church in New England (US). They also established Passion & Fire Ministries, under which they travel full-time as Bible teachers in service of local churches throughout the world. Brian and Candice are co-authors of numerous books, Bible studies, and devotionals that help readers encounter God's heart and experience a deeper revelation of God as our Bridegroom-King, including The Blessing, The Image Maker, The Sacred Journey, The Wilderness, and Throne Room Prayer. Brian is also the lead translator of The Passion Translation(R). The Passion Translation (TPT) is a heart-level translation that uses Hebrew, Greek, and Aramaic manuscripts to express God's fiery heart of love to this generation, merging the emotion and life-changing truth of God's Word. Brian and Candice have been married since 1971 and have three children as well as precious grandchildren and great-grandchildren. Their passion is to live as loving examples of a spiritual father and mother to this generation.