Rurouni Kenshin (3-in-1 Edition), Vol. 7: Includes vols. 19, 20 & 21 (Paperback)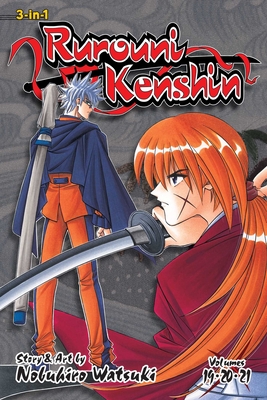 $14.99
Title is Backordered
Description
---
The beloved landmark tale of a Meiji-era swordsman's quest for redemption.

Action, romance and historical intrigue help make Nobuhiro Watsuki's Rurouni Kenshin, the tale of a wandering swordsman set against the backdrop of the Meiji Restoration, one of the most popular manga titles of all time!

In the aftermath of their battle for Japan's future, Kenshin and his friends are ready to enjoy a hard-won peace. But the past isn't finished with them. A new threat arises in the form of an army of vengeful warriors—each of whom has a grudge against Kenshin from his days as the ruthless assassin Battōsai. Forced to face his old sins, Kenshin must find a way to make peace with the victim he most regrets hurting: his wife.
About the Author
---
Rurouni Kenshin, which has found fans not only in Japan but around the world, first made its appearance in 1992 as an original short story in Weekly Shonen Jump Special. Later rewritten and published as a regular, continuing Jump series in 1994, Rurouni Kenshin ended serialization in 1999 but continued in popularity, as evidenced by the 2000 publication of Yahiko no Sakabatô (Yahiko's Reversed-Edge Sword) and the 2015 publication of Rurouni Kenshin: Restoration in Weekly Shonen Jump. The series has also inspired novels, anime and films. Watsuki is also the author of the popular series Buso Renkin, published by VIZ Media.