JoJo's Bizarre Adventure: Part 3--Stardust Crusaders, Vol. 2 (Hardcover)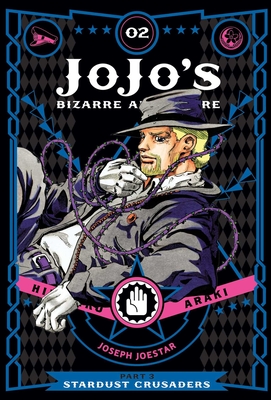 Description
---
A multigenerational tale of the heroic Joestar family and their never-ending battle against evil!

The legendary Shonen Jump series is now available in deluxe editions featuring color pages and newly drawn cover art! JoJo's Bizarre Adventure is a groundbreaking manga famous for its outlandish characters, wild humor and frenetic battles.

Jotaro and his allies continue their perilous journey to track down the diabolical DIO. Their plane crashed, so this time they're trying a boat! But enemies are everywhere and Stand users can be anything. Danger comes from the most unexpected places as the most bizarre trip around the world continues!
About the Author
---
Hirohiko Araki made his manga debut in 1981 with the Wild West story Busô Poker. He experimented with several genres, including mystery (Mashonen B.T.) and action-horror (Baoh), before beginning JoJo's Bizarre Adventure in 1986. Propelled by imaginative storylines, weird imagery and individualistic artwork, JoJo's Bizarre Adventure is one of the longest-running and most popular shonen manga ever. Araki's current works include a new series set in the JoJo universe, JoJolion.