Hunter x Hunter, Vol. 11 (Paperback)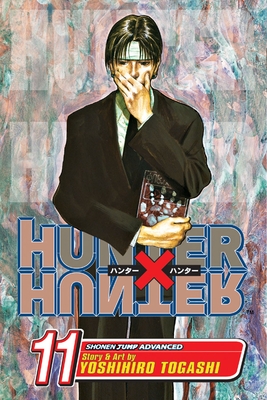 $11.99

Usually Ships in 1-5 Days
Other Books in Series
This is book number 11 in the Hunter X Hunter series.
Description
---
Plucky Gon's quest to find his dad leads him into a whole world of crazy adventure.

Hunters are a special breed, dedicated to tracking down treasures, magical beasts, and even other people. But such pursuits require a license, and less than one in a hundred thousand can pass the grueling qualification exam. Those who do pass gain access to restricted areas, amazing stores of information, and the right to call themselves Hunters.

Gon, Killua, Leorio and Kurapika are finally reunited. Kurapika tells the gang that he made a Nen covenant to strengthen his ability by setting limits on it--all for the bargain price of his death if he ever uses Chain Jail against anyone who's not a Spider. Meanwhile, the Mafia is researching the members of the mysterious and deadly Troupe, but even the most foolproof database contains no information on them. But there's only one place where goons can avoid registration: Meteor City, the junkyard of the world!
About the Author
---
Yoshihiro Togashi's manga career began in 1986 at the age of 20, when he won the coveted Osamu Tezuka Award for new manga artists. He debuted in the Japanese Weekly Shonen Jump magazine in 1989 with the romantic comedy Tende Shôwaru Cupid. From 1990 to 1994 he wrote and drew the hit manga YuYu Hakusho, which was followed by the dark comedy science-fiction series Level E and the adventure series Hunter x Hunter. In 1999 he married the manga artist Naoko Takeuchi.