Hunter x Hunter, Vol. 9 (Paperback)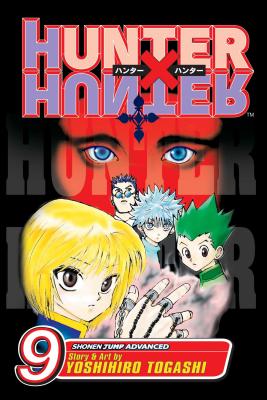 $9.99

Usually Ships in 1-5 Days
Other Books in Series
This is book number 9 in the Hunter X Hunter series.
Description
---
Plucky Gon's quest to find his dad leads him into a whole world of crazy adventure.

Hunters are a special breed, dedicated to tracking down treasures, magical beasts, and even other people. But such pursuits require a license, and less than one in a hundred thousand can pass the grueling qualification exam. Those who do pass gain access to restricted areas, amazing stores of information, and the right to call themselves Hunters.

The day of the great auction arrives, but all the goods have gone missing! It turns out that the mafia learned of the Spiders' plans and sent their top ten fighters to take care of things. These "Shadow Beasts" whisked away the auction items to safety, and the dread Spiders are hunting them down. With all this distraction and some questionable help from Hisoka, Kurapika gets closer to vengeance against the Spiders. But when the fight comes down to a battle to the death with one of the strongest members of the troupe, will Kurapika's hidden powers be enough to ensure victory?
About the Author
---
Yoshihiro Togashi's manga career began in 1986 at the age of 20, when he won the coveted Osamu Tezuka Award for new manga artists. He debuted in the Japanese Weekly Shonen Jump magazine in 1989 with the romantic comedy Tende Shôwaru Cupid. From 1990 to 1994 he wrote and drew the hit manga YuYu Hakusho, which was followed by the dark comedy science-fiction series Level E and the adventure series Hunter x Hunter. In 1999 he married the manga artist Naoko Takeuchi.